Have you ever imagined challenging yourself on a long-distance hiking trail? Well, there is a new amazing one along the Baltic Sea. It starts at a small village Nida on the Latvian/Lithuanian border and stretches up to the capital city of Estonia – Tallinn. It is more than 1,200 kilometers  (746 miles) long covering 580 km (360 miles) in Latvia and 620 km (385 miles) in Estonia. The good news is that you can split this long-distance hiking trail in as many short hikes as you want.
When it comes to serenity there are not that many options for coastal hikes in good old Europe. In Southern Europe, it is difficult to find a seacoast that is long enough for hiking and being wild and secluded at the same time. For coastal hiking, you will want to head to Western or Northern Europe. There are some really great options in Western Europe (e.g. in Scotland and Portugal) and also in Nothern Europe for coastal hiking.
You will find some real coastal hiking gems here in Northern Europe that you may have not heard about so far. The small Baltic States now offer excellent coastal hiking destinations that will blow your mind.
These are real escape travel or so to say under-the-radar spots, and here's why.
Escape Travel And Coastal Hiking
The New Long-Distance Hiking Trail In The Baltic States
An Estonian-Latvian project has just recently completed a new exiting long-distance hiking trail along the coastline of the Baltic Sea in Latvia and Estonia. It was officially launched on 14 September 2019. Yet this was just a formality. Baltic Sea costs have already been well known and used by locals as a great hiking destination. It's only now when it has been finally marked (with white-blue-while signs) and received its local names in Latvian and Estonian.  
This trail is now an official part of the so-called E9 European long-distance trail or European Coastal Path. It is one of the European long-distance hiking trails, which is well known to the coastal hiking lovers. European Coastal Path starts in Cabo de São Vicente in Portugal and now ends in Narva-Jõesuu in Estonia.
The new Latvian-Estonian long-distance hiking trail starts in a small village called Nida on the Latvian – Lithuanian border. It goes along the Latvian and Estonian coastline ending in the capital city of Estonia – Tallinn.
The trail was inspected in the summer of 2017 by the rural tourism expert Juris Smaļinskis. Juris is an experienced traveler. He was involved in the project to check and map the new long-distance hiking trail on-site. On his way, Juris also checked tourism infrastructure and interesting things to see, hence completing awesome work. During this 50 days' journey, he met many local people, other hikers, officials from municipalities and entrepreneurs, and received lots of support and encouragement.
After his adventure he came out with some interesting total stats:
Distance hiked: 1,230 km

Number of days spent on the trail: 50 (yet it's estimated now that it will take approximately 60 days to complete the trail for an average hiker)

Average speed 3 km/h (including time spent for check-ups)

Steps: 1,5 million

Hiking hours: 440

The total amount of participants throughout the hike: 520

Youngest participant: 7 years

Oldest participant: 69 years

Most frequently asked question in Latvia: "How much left to go?"

Most frequently asked question in Estonia: "What's the weather forecast for today and for tomorrow?"

Pieces of amber found: 50 (one big)
Name Of The Trail
So, what is the name of the new Baltic Coastal Hiking Trail, then. Well, there is no well-grounded name in English yet. Yet the widely used Latvian name of the trail is "Jūrtaka". It means "Seapath" in English. In Estonian, it is called "Ranniku matkarada", which means "coastal path". 
Sustainable Travel
This long-distance hiking trail is a new sustainable tourism project. It highlights Latvian and Estonian cultural and natural heritage, which has been largely unknown for the rest of the world so far.
The trail has a great potential to become a "must-do" for many long and short distance hikers from around the world. It is something new, fresh and unbeaten. It is a new Baltic alternative to the famous Rota Vicentina long-distance hiking trail in Portugal, just many times longer (Rota Vicentina is around 400 km (250 miles) long).
Yet, you do not have to hike it all at once, of course. The Baltic long-distance hiking trail is divided into 60 days of an average daily hike of 20 – 25 km (12 – 15 miles). Hence you have a lot of freedom and you can choose hiking those parts you like the most and plan your trip according to your time schedule. You can also find the digital map of the route here and download a detailed Baltic Coastal Hiking Guide here.
Everyone can plan his/her own personal adventure trip and make his/her own "collection" of one-day or multiple-days hikes on the Baltic Sea coast.
We can also do your planning for you if you wish.  For that please fill in the trip planner form here.
Top Hiking Spots
Latvia is mostly characterized by gorgeous white sandy coastal dunes and beaches. Some of the most beautiful hiking sites in Latvia are between Pāvilosta and Jūrkalne, Sīkrags and Kolka as well as Tūja and Vitrupe. These are each one-day hikes of a bit more than 20 km (12 miles).
The Estonian coastline offers another perspective. From Paldiski to Tallinn you will find gorgeous coastal cliffs. The most famous is Türisalu cliff, which is one of the most beautiful places on the North-West coast of Estonia. This section is a three-day hike (23-25 km each day) if you want to hike it all. Alternatively, you can also do a one or two-day hikes here as well.
From Elbiku to Nõva you will find sandy beaches and dunes like in Latvia.
All these sites are definitely among the best for hiking in Northern Europe. Yet they are not the only ones. Almost the entire seacoast of the Baltic States is a superb escape travel destination. This includes hiking, but also other activities as well as relaxing and enjoying the pristine and mostly secluded nature.
What About Lithuania?
Lithuania is the third Baltic State and its coastline cannot be missed. Lithuanian seacoast was not included in the long-distance hiking trail project simply because this was the Estonian-Latvian project (neighbors' issues).
Lithuania has the shortest coastline of 262 km (163 miles) among all three Baltic States. Yet, it owns part of the famous Curonian Spit with the most impressive dunes in the Baltic States. It is a truly amazing UNESCO World Heritage Site.
That said Baltic States are incomplete without Lithuania. You can add the relatively short Lithuanian coast and the remaining coastal section from Tallinn to Narva-Jõesuu in the very north of Estonia to your hiking list. Voilà! You get the full long-distance coastal hiking trail in all three Baltic States and hence also the European Coastal Path fully completed.
Baltic States: Hidden Jewels For Coastal Hiking And Not Only For Hiking
Why You Might Not Have Heard About Us So Far
Those who have not visited the Baltic States before might ask "Why I haven't heard about these amazing places before?" The question is fair enough. 
Well, first, you may know that Nordic nations are pretty reserved. Hence particularly Baltic nations are not that great in self-advertising. Also, our cultural background is not about bells and whistles.
Secondly, many of us do not yet realize the value of our natural and cultural heritage. These are actually treasures on a global scale. There are only 2 million of Latvians living in the land that is by one-third bigger than let's say Netherlands or Switzerland. There are even fewer Estonians: around 1.4 million left.  Hence by no means, our lands cannot be called overpopulated.  This is why sometimes we take our nature values as something for granted. Yet for off-the-beaten-path travelers, Baltic nature and cultural heritage might be a huge discovery and a truly pristine runaway.
When To Visit?
The Baltic nations and particularly Latvians are somehow reluctant speaking about themselves. This is so unless you get to know us more closely on some informal grounds like in a private party or public event.
Yet if you plan your trips in advance you might be lucky enough to see different Latvians. You may schedule a visit to Latvia during UNESCO recognized Song and Dance Festival. It is held once every five years. The latest one took place on July 2018. Plan your visit to see the next one in 2023!
You may also choose to come during the summer solstice. We celebrate it every year on 23rd and 24th of June on a scale that nobody else in the world does. These are public holidays here and we call these days "Līgo" and "Jāņi".
If the short autumn days and bad weather is not an obstacle, you can also come at the time of our independence day on 18th November. Or you might wish to witness our colorful autumn at the end of Septemeber or in October.
Snowy winters ads even more to the local charm. Doing coastal hiking (or any other activity in nature) in winter by no means is more challenging (in terms of low temperatures and cold winds. Yet it also means even more serenity. If you are lucky enough, you can even see the Gulf of Riga when it's covered by ice, which is an awesome view and a totally different perspective.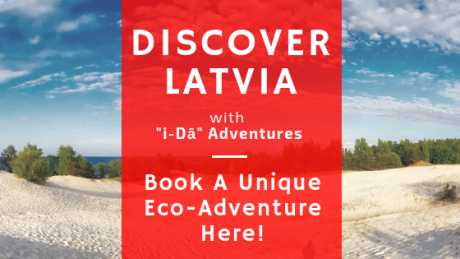 7 Reasons Why Baltic Coastline Is So Special
So why is the coastline of the Baltic States and coastal hiking so special here? Here are 7 reasons for that:
#1: Our seacoast is mostly composed of secluded beaches, dunes, and forests. Beautiful seaside, long days and gorgeous sunsets are what make coastal hiking or just enjoying the nature special here.
#2: In the summertime, the sun rises around 5 a.m. sets only around 10 or even 11 p.m. So you have plenty of time for any outdoors' activity.
#3: Diverse Latvian, Estonian and Lithuanian coastline give vast opportunities for coastal hiking. Most of the hiking places are easy to reach. Hence, you can hike the entire Baltic Sea coast or any of its section. It's all your choice.
#4: There are guest houses along the coast (more along the Gulf of Riga; less on the wild North – West Coast of the open Baltic Sea). Thus you can plan your trip to stop there or you can go camping instead. Just be sure you book timely if you are coming in the summertime especially on weekends.
#5: The Baltic States are still very affordable! You can travel here for a fraction of the costs that you would spend let's say in neighboring Scandinavia.
#6: As mentioned above we do not have many people here. Thus, apart from the beaches around some bigger cities, there is plenty of space for spending your time in serenity and pristine nature. Being Nordic people, Latvians and Estonians are friendly but also reserved. Thus, you are unlikely to be bothered much on your trip not to speak about tourist crowds – not existent here at all.  You can find almost empty remote beaches even on the hottest summer days. 
#7: The Baltic coastline is diverse. There is a mix of wide sandy beaches and stony seashores. You'll find old pine forests, grey dunes, swampy areas of wet coastal meadows and even cliffs here. You'll also find sites important for migratory birds. This will be a dessert for any avid bird watcher.
Weather
As everywhere in Northern Europe the weather here can be unpredictable. There can be gorgeous sunny days and it can rain several days in a row. Check the weather forecast before you go! Still, it is in no way guaranteed that the weather will be as you hoped for! Yet, as we say here "there is no bad weather for being in nature, there is only inappropriate clothing".
Note also that with the words "hottest summer days" above I mean our Latvian-Nordic interpretation of what is "hot" weather. Depending on how "heat" prone you are these are the rare occasions when the temperatures exceed some 25 degrees Celsius (77 degrees Fahrenheit). Sometimes during hot summers, it can exceed 30 degrees C (86 degrees F). While on the coldest winter days in January and February it can be as cold as minus 30 degrees C (minus 22 F). These are rather rare extremes though. Normally we have moderate temperatures excellent for hiking.
The Baltic States Are Green
By traveling to the Baltic States you are not only going to gorgeous beaches of the Baltic Sea.  The Baltic States are the lands of amazing forests, natural bogs, plenty of lakes and rivers. Thus you come to one of the best places for ecotourism in Europe.
Latvia is actually one of the greenest countries in the World. It topped the Environmental Performance Index in 2012. This is because we are passionate about nature. Half of the Latvian coastline (230 km) is covered by protected nature areas of European Union importance (Natura2000). How cool is that?
Conclusions
You may want to know that there is a new amazing long-distance hiking trail recently developed in the Baltic States, which is an excellent destination for coastal hiking in Europe.
The trail follows the gorgeous coastline of the Baltic Sea. The "official trail" is 1,200 km long and covers two countries: Latvia and Estonia. Yet you can easily add "missing" Lithuania and the very North of Estonia at any time. Thus you'll get the complete long-distance hiking trail covering all three Baltic States – The Baltic Sea Path. This trail completes the European Coastal Path (E9) in Northern Europe.
The Baltic Sea Path's local names are "Jūrtaka" in Latvian and "Ranniku matkarada" in Estonian. It is divided into 60 hiking sections (days) of around 20 – 25 km (12 – 15 miles) each. They are accessible to everyone. Welcome!
What do you think about the new long-distance hiking trail in the Baltic States? Would you come for a hike along the Baltic Sea? Write your comments below or send me a private message for more details on [email protected].
If you want me to arrange your hiking or any other adventure trip in Latvia, please contact me or book at  www.idaadventures.com.