Why You Should Not Miss An Adventure Travel To Latvia (Even If You Are Not Adventure Traveler)
Visit Latvia – A Place For New Experiences
Latvia has been truly an under the radar travel destination in Nordic Europe so far. The Telegraph reveals 25 amazing things you probably didn't know about Latvia. They are all true. Yet, it is just a very raw insight before you visit Latvia. Do you want to know more details from a local's perspective? Read this ultimate guide that I have compiled for you!
Latvia is a perfect place for new experiences. You will find pristine nature and authentic Baltic traditions here. The global travel tendencies show that travelers are more and more in search of authentic experiences. Such are natural and cultural discoveries as well as active and exciting activities. Latvia perfectly meets all these criteria and exceeds them. Plus Latvia and the other Baltic States are European Union countries and we are in the Schengen Area. This makes visiting Latvia even more attractive.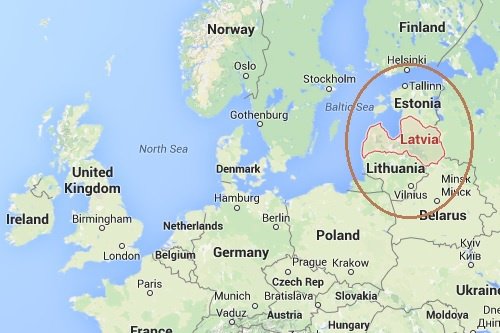 I am a keen traveler and I know how overwhelming it can be to search and compile all the information about the chosen travel destination that actually fits your needs. Well, if you plan to visit Latvia, look no further. I have done this for you here. In this article, I have compiled the very best places to visit and things to do in Latvia. For even more details do not hesitate to check out the links included.
The majority are visiting Latvia mostly because of its capital Riga and some of its surroundings. Yet as a local I can assure you that the real Latvia starts outside Riga. Don't get me wrong. Riga is a gorgeous city. It is my hometown and I love it. It is a must for all the first time visitors to Latvia. Yet I also would like to invite you to make a step further. I invite you to go outside the capital to see the main treasures of Latvia: its pristine nature and authentic traditions. Hence in this article, I will first focus on these values. Welcome!
Why Adventure Travel In Latvia Might Be Your Best Choice
What makes a visit to Latvia a great choice if you love adventure travel? It is a natural beauty, new experiences, diverse outdoor activities, and unique Baltic traditions. Latvia is also a low-cost destination compared to many other European countries.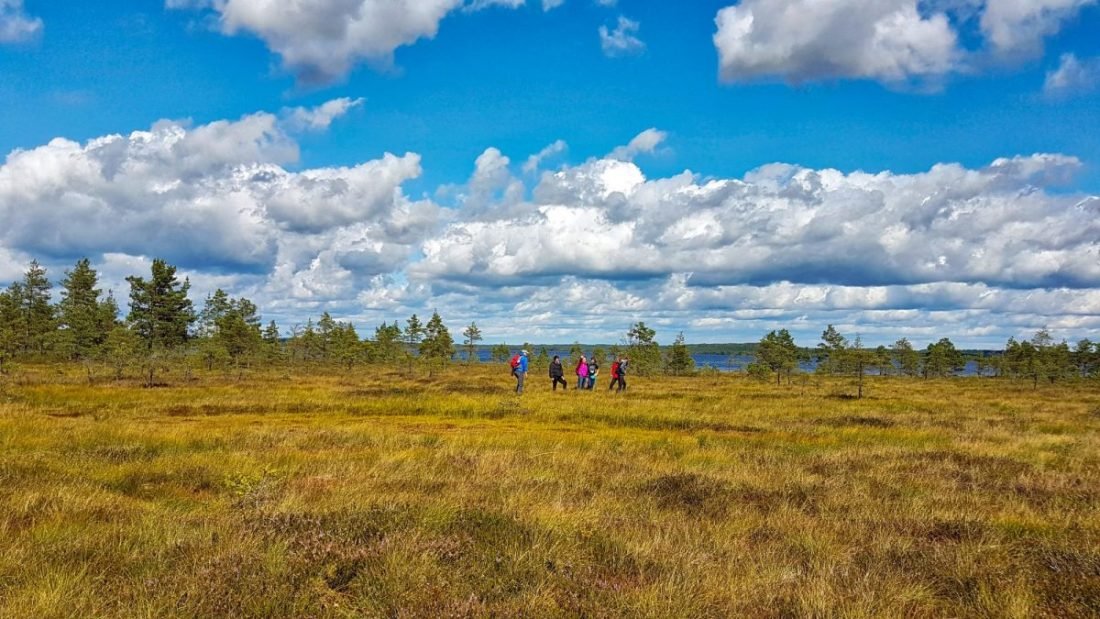 Natural Beauty
Latvia might not be a standard tourism destination that first comes to your mind. Yet it has a gorgeous nature and it is a perfect Nothern ecotourism destination.
Visit Latvia and you will see that we still have nature values that had been lost in other parts of modern Europe decades ago! I am a nature conservation expert with an experience of more than 18 years. I have worked not only in Latvia but also in other European countries. Thus I dare to call Latvia one of the greenest countries in Europe. Latvia topped Environmental Performance Index in 2012. Since then it had dropped to the 40th place. Yet it is mostly due to changes in methods. Latvia is still among the leaders when it comes to the quality of the environment. That said if ecotourism is what speaks to you, visit Latvia.
Contact the local ecotourism experts and you will get a dedicated and informative adventure trip! This a great way to learn more about nature conservation and sustainable tourism in Latvia and in Europe.
Baltic Sea And Stunning Sandy Beaches
Visit Latvia and you will find amazing sandy beaches here. Latvia has for sure among the most beautiful Nordic coastlines in the world. The Baltic Sea coast in Latvia is more than 500 km (311 miles) long. It is largely secluded but at the same time, it is public and easily available for everyone.
Dense Forests
Latvia is also the land of forests. More than 50% of the territory is covered by forests, which is well above Europe's average of 33%. Dominating trees are pine, birch, and spruce. Yet we also have different mixed broad-leaved forests. They become especially beautiful in the autumn.
Pristine Bogs
More than 10% of Latvia is bogland. Most of these bogs and mires are truly wild and pristine. We still have unique raised bog habitats that have largely disappeared in Western Europe.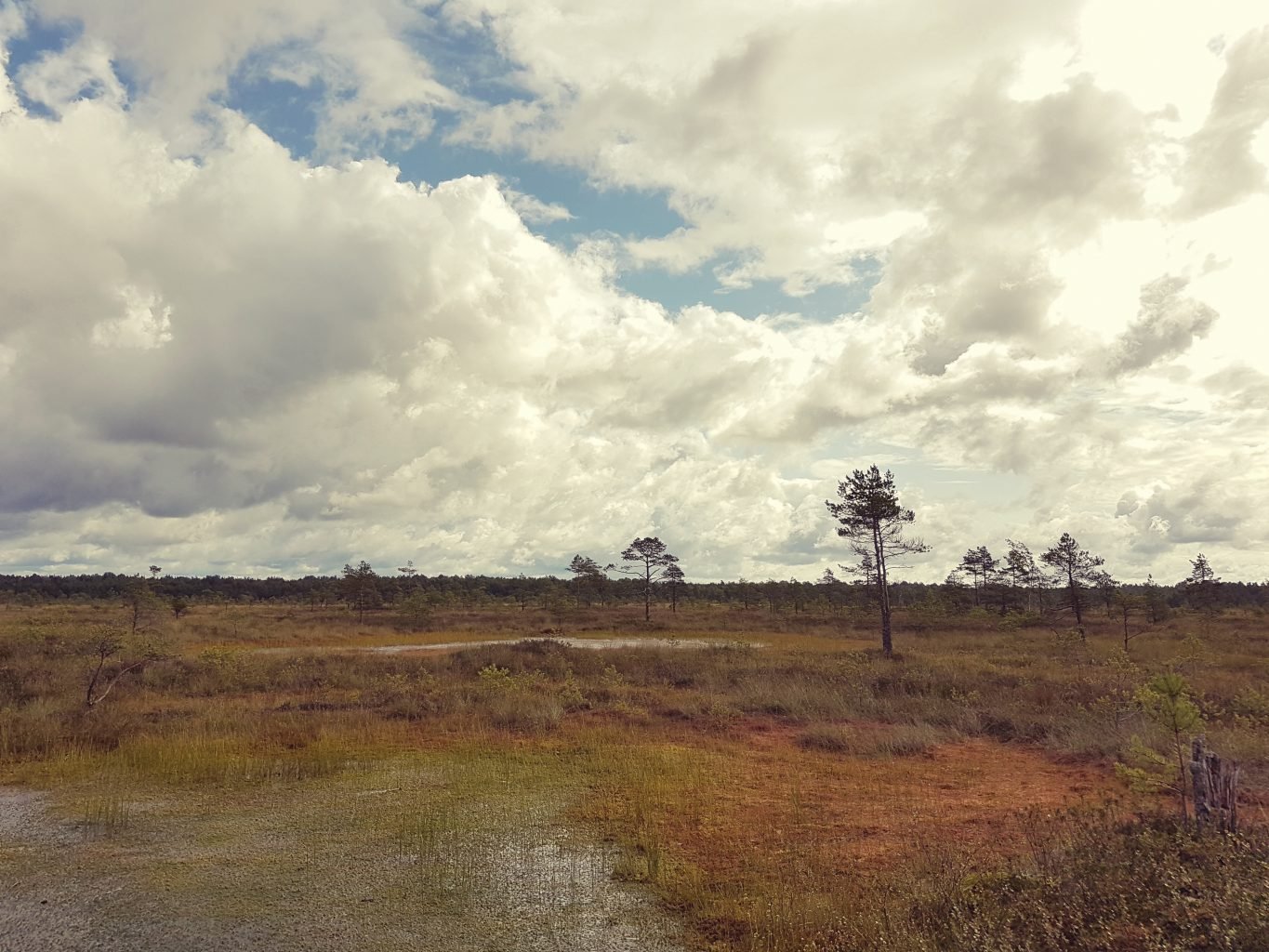 Lakes & Rivers
Latvia is also a very watery country. We have around 12,000 rivers and 3,000 lakes. Eastern region of Latvia – Latgale is even called the "Land of Blue Lakes", and this is not without a reason.
Protected Areas – Best Places To Visit In Latvia
There are 4 national parks, 42 nature parks, and 261 nature reserves in Latvia. We also have 4 strict nature reserves, around 355 nature monuments, 7 protected marine areas, and a biosphere reserve. There are lots of small protected areas called micro-reserves as well. All these areas are set-up for the protection of species, natural habitats, and traditional landscapes. Many of them are great eco-tourism spots. Here is a great movie about protected areas of Latvia. Enjoy!
The protected areas in Latvia are of European Union importance. Most of them are Natura2000 sites. Some of the best places to visit in Latvia are the four national parks and North Vidzeme Biosphere Reserve. Yet there are also several other great protected parks that you should not miss.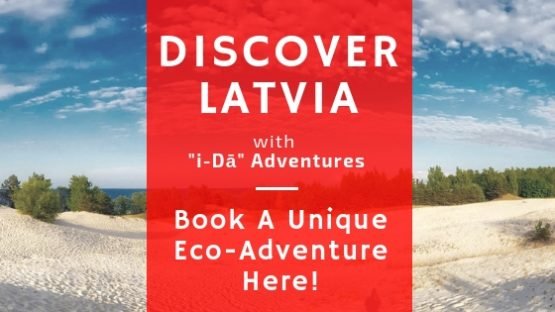 #1: Gauja National Park – The "Must See" Place In Latvia
Gauja National Park is the oldest national park in Latvia. It is the most beautiful destination that attracts many visitors. You can soak up the beauty of pristine nature here, which is so different in each of the four seasons. In summer and spring, it is a popular place for kayaking/canoeing in the gorgeous Gauja River Valley. In the autumn the beautiful broad-leaved forests in Gauja Valley turn into breathtaking yellow and red colors. While in snowy winter it is a great place for cross-country skiing. Gauja National Park is a "must see" place when you visit Latvia.
There are also cozy popular towns that you may wish to visit in Gauja National Park. Such places are Sigulda, Krimulda, Turaida, Līgatne, and Ungurmuiža. Also, the new Latvian cultural center Cēsis with its more than 800 years old town is a "must see" place. You can get to the Sigulda (50 km/31 miles) or Cēsis (90 km/56 miles) by train or bus from Riga and rent a bike there. Or you can travel by car and be more mobile when visiting Latvia.
#2: Slitere National Park – The Wildest Place To Go When Visiting Latvia
Slitere National Park is the wildest national park in Latvia. It is in the northwest part of the country and includes Kolka Cape- the place where the "two seas" (open Baltic Sea and the Gulf of Riga) meet. Earlier it used to be a strict nature reserve with a very limited public access. Today it is a national park open for visitors. Yet in some parts, the access is still restricted to protect natural values.
The park is quite far from Riga (160 km/99 miles to Kolka) but much closer to the very nice Talsi Town. Kolka Cape is only 64 km/40 miles from Talsi. You can get to Kolka by bus, but it will take some four to five hours from Riga. Thus a car is the best choice to travel around there.
#3: Kemeri National Park – The Place Of Magic Boglands
Kemeri National Park is the closest national park to Riga. This makes it also the most visited one. The most attractive parts for visitors are Great Kemeri Bog with its boardwalk. Lake Kaņieris is a perfect spot for bird watching and angling. You can get to Kemeri National Park by train or bus from Riga. It is also a short (ca. 45 minutes) drive by car from the capital. 
#4: Razna National Park – The Gem Of Eastern Latvia
Razna National Park is the youngest of all national parks in Latvia. It is the only one in the eastern part of the country – Latgale. Latgale is rich with lakes. Hence it is called "The Land of Blue Lakes". The park itself is named after a big Lake Rāzna, which is sometimes called even the Sea of Latgale. The park has lakes and forests and the unique diversity of nature.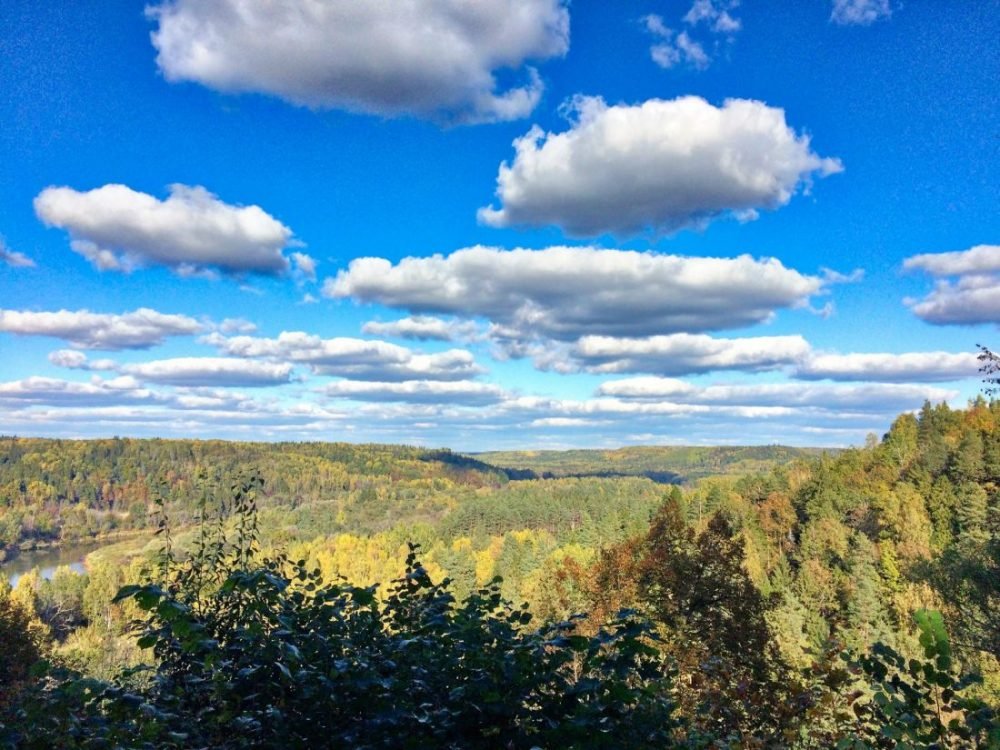 You can get to the park traveling by bus to Rēzekne City. Yet I would recommend renting a car. This is how you will see much more of this unique and totally different region of Latvia.
#5: North Vidzeme Biosphere Reserve
North Vidzeme Biosphere Reserve is the biggest protected area in Latvia. As the name itself suggests the reserve is located in the northern part of Vidzeme, which is the central part of Latvia.
The reserve is a protected area of international importance recognized by UNESCO. The area includes both natural and cultural values. You can enjoy the gorgeous Rocky Seashore of Vidzeme. Or you can head to any of the remote and pristine bogland areas near Estonian border. The beautiful rivers of Salaca and Ruja, as well as Burtnieku Lake, are perfect places for kayaking/canoeing.
Getting there depends on the activities you plan to do. A car is always the best option to get the most of your trip. However, you can also choose a bus. To get to Vidzeme Stony Beach go to Tuja village. If you plan activities in Salaca River you can choose to go to Mazsalaca Town. It is the starting point of the most beautiful boat trip on this river. Another option is to go to Staicele or Salacgriva Towns. The latest one is at the Gulf of Riga. You can also choose to go to Valmiera, which is the biggest city in Vidzeme with good further connections.
North Vidzeme Biosphere Reserve is a huge area to explore. Hence the motivation to visit Latvia again.
#6: Nature Parks
The most prominent protected areas mentioned above are not the only ones worth looking at when you visit Latvia. There are also smaller nature areas that you might be interested in. Such are:
"Lake Pape" Nature Park
 "Lake Pape" Nature Park is the area in the very southwest part of Latvia. Lake Pape is a shallow lagoon lake. It is a perfect place for bird watching during the migration periods in the spring and summer. Pape is a remote place that can be reached by car or by bus. It is 50 km/31 miles south of Liepaja city.
Nature Park "Bernati"
Nature Park "Bernati" is another great place near the Baltic Sea. It is only halfway (20 km/12 miles) between Liepāja city and Lake Pape. There are several good guest houses in Bernati. Most of them you can find on the booking sites. Just book in advance if you visit Latvia in summer.
The beach is gorgeous here. Yet be careful while swimming in the sea! There are cunning rip currents in this area.
Nature Park "Piejura"
Nature Park "Piejura" is the nature park lays at the seacoast of Riga, Carnikava, and Saulkrasti municipalities. The word "Piejūra" itself means "at the sea". That said it is one of the closest protected areas that you can go to while you are in Riga. So what's interesting there? Well, you will find gorgeous beaches, sandy and grey dunes here. Old coastal pine forests with fresh air right in or next to the big city are what attract people too when they visit Latvia.
A special place of interest is Daugavgrīva Fortress. It is built in the Swedish Livonia in the 17th century. Today it is a pretty wild and interesting area in the very north of Riga city.
For a relaxed holiday with your family or friends on a sandy beach visit Saulkrasti Town. It is the longest town in Latvia some 45 km/28 miles to the North from Riga.
Public transportation to any point of interest in Nature Park "Piejura" is well-developed. You can choose going there by bus or train. Both are frequent. If you feel more adventurous you can also rent a bike that you can also take with you on a train.
"Lake Engure" Nature Park
"Lake Engure" Nature Park is about 70 km/44 miles to the northwest from Riga. Engure Lake is also a shallow lagoon lake. Hence it is also a paradise for migrating birds and a good place for bird watchers. Yet it is much closer to Riga than Lake Pape. You can get to the park by bus or by car. The lake is close to the Gulf of Riga. Thus you can combine bird watching on the lake with a relaxed afternoon on a beach. You will find great spots for this on the way back to Riga in such places like Klapkalnciems, Ragaciems, and Lapmezciems.
Abava Valley Nature Park – Great Kayaking Trips & Cozy Small Towns
Abava Valley Nature Park is an amazing destination for a kayaking or canoeing trip. It has impressive landscapes, cozy old towns on their banks and natural diversity. Depending on which section of this river you plan to conquer you will get one or all these values combined.
Nature Park "Daugavas loki" (Meanders of Dauagava)
Nature Park "Daugavas loki" (Meanders of Daugava) is a scenic area in the very south-east part of Latvia. It is famous for its pronounced natural meanders of the biggest river of Latvia – Daugava. This is also the UNESCO heritage site. You will see totally different Daugava compared to the same river in Riga.
"Daugavas loki" is a beautiful area for kayaking and canoeing. You will witness amazing off-the-beaten-path nature spots here. 
The water tourism is not that well-developed on Daugava as it is on other popular rivers in Latvia. Hence you can ask a professional local adventure travel company to arrange your trip when visiting Latvia.
While traveling to this part of Latvia you can also visit the second biggest city in Latvia – Daugavpils. "Must see" places here are Daugavpils Fortress and Mark Rothko Art Center. Daugavpils is around 225 km/140 miles away from Riga. Thus it is usually not a one-day trip if you want to see something more than the sightseeing sites only in the city.
Lubana Wetland Complex – Birds' Paradise
Lubans is the biggest lake in Latvia. The unique lake and the area around it is a wetland of international importance.
Lake Lubans is another great place for bird watching in Latvia. There are six bird watching towers available for this activity.
The area is the home for many protected species and habitats. You can also buy local fish and rent a boat here. Lake Lubāns is around 215 km (155 miles) from Riga. Thus you might consider visiting it along with other places in Eastern Latvia – Latgale (like Rāzna National Park and/or Nature Park "Daugavas loki").
Best Activities In Nature When You Visit Latvia
Pristine Latvian wilderness offers plenty of outdoor activities. That said you'll find plenty and diverse experiences here. These are mostly so-called soft adventures available to almost everyone.
Latvia is not densely populated, and over tourism is also not a problem here. Hence you will easily find many secluded places for outdoor activities.
#1: Hiking In Latvia & Walking Experiences
Coastal Hiking In Latvia
Latvian coastline is the best for hiking. It offers amazing sandy beaches, dunes and coastal forests.
There is also a new long-distance hiking trail along the coastline of the Baltic Sea. This trail is a part of the so-called E9 European long distance path or European Coastal Path. Currently, it is 1,230 km (764 miles) long. The trail starts in a small village called Nida on the Latvian – Lithuanian border. It goes along the Latvian and Estonian coastline ending in the capital of Estonia – Tallinn.
Yet, if you don't feel ready for such an arduous challenge, Latvian coastline offers plenty of great shorter hiking options. Some of the most beautiful hiking sites in Latvia are between Pāvilosta and Jurkalne, Sikrags and Kolka, Tuja and Vitrupe, Kaltene and Roja as well as in and near Riga city. These are each one-day hikes of about 20 km (12 miles). You can, of course, choose longer or shorter distances to go as you wish. It is also great to have shorter beach walks in Riga, Jurmala and Liepaja cities.
Dense forests and vast bogland areas also provide a great escape to the wilderness when you visit Latvia.
Hiking In The Most Mysterious Forest In The Baltic States
The dense forests of Latvia keep many secrets. Some places are truly mysterious. After about 1.5 h drive from Riga you can reach "Pokaiņi forest". This place has many hiking paths in a relatively small area. There are also piles of stones the origin of which nobody can explain. Mystics say there is a special energy in this place. It is considered being an ancient Baltic sacred place. We always feel particularly charged when coming here.
Hiking In Bogs
Hiking in bogs can be tricky and you may need some local to avoid getting lost. Yet it is the must experience that every nature lover should try.
Using so-called "bog shoes" will allow you to reach sites that are otherwise not accessible.
But what if you are seeking for not so wild experiences or are not comfortable walking in rubber boots? Well, there are also convenient boardwalks available in many bogs. The most popular boardwalks are in Great Kemeri Bog and in Cena Mire near Riga. They may get pretty crowded, especially during the weekends. Yet going there in early mornings or during other weekdays will let you immerse in nature not far from the big city.
#2: Kayaking & Canoeing Is Among The Best Things To Do In Latvia
Kayaking and canoeing is a great way to explore Latvia from a different perspective. It is also a great alternative for those not loving to walk a lot. Many rivers and lakes in Latvia are perfect for kayaking and canoeing. The best and most popular rivers are Gauja, Salaca, Abava as well as more distant Irbe. The gorgeous lakes of Latgale are also great for adventures on waters.
Explore the best places in Latvia for kayaking/canoeing before you visit Latvia.
Best time for kayaking/canoeing is, of course, summer. If you plan your trip on a weekend be ready to book the boats in advance. Latvians love to spend the very limited number of summer weekends on or near open waters. Thus it can happen so that you may not get any free kayak or canoe if you're not fast enough. A great choice again is not to go on weekends but rather on any other weekday.
Last but not least you can even get on a kayak in Riga and explore our cozy urban environment and industrial part of the harbor from a unique perspective.
If you are skilled and/or brave enough, you can also try kayaking in the Baltic Sea and Riga Bay.
Finally, you can even go kayaking in the forest during the winter or spring floods.
#3: Biking/Cycling
Latvia with its mostly flat terrain is perfect for not too strenuous biking. Choose a mountain bike or a fat bike for an adventurous ride in our dry pine forests or on the beach. Take the vintage Erenpreis bike for a relaxing ride in a town.
Latvia is a green country. This is also true in our towns and cities. In some places, the greenery is so abundant that it is difficult to believe you are still in a city. A large part of Riga is also covered by woodlands. Hence needless to say that there are plenty of good places for biking.
At the same time be aware that Latvia is not the best place for long distance biking trips on the roads and highways. There are almost no bicycle routes along the big roads in the country. And cycling on the highway is not exactly the safest way to travel here. Yet many travelers still choose this option during the summer when they visit Latvia.
So should you ride a bike on the street or road in Latvia? Well, I would say better not. I recommend you to get to the best biking sites and use the bike only there. This is unless you are a keen long-distance cyclist and/or do not mind sharing your space with the cars. Another option is to use local adventure tour services. They will take care of the bikes and guide you to the best biking spots in Latvia.
In the cities though you can easily rent a bike and explore the sightseeing sites on your own. Yet again, be careful in Riga. It's an old city. Thus the streets are not very wide here and often you will have to share your space with the cars.
Visit Cesis & Valmiera Towns On A Bike
There are some good MTB routes in Latvia. One of the most beautiful cycling paths is from Cesis to Valmiera and vice versa. It is 42 km (26 miles) long one day ride mostly along the gorgeous Gauja River Valley.  This bicycle route compiles the most interesting sightseeing sites in this beautiful region. Besides you can combine this trip with visiting Cesis and Valmiera towns too.
Biking Along The Baltic Sea Coast
Riga – Jurmala
If you choose biking on the beach be aware that it is possible only where the sand is not too loose. This is so on the beach of Jurmala or Liepaja cities. You can also rent a bike to go from Riga to Jurmala. There is a bicycle route between these two cities. Hence you will reach a beautiful sandy beach in Jurmala after some 20 km/12 miles one-way ride.
Kolka Cape – A Place Where The "Two Seas" Meet
You may also prefer more off-the-beaten-path adventurous biking in the coastal area. In this case, I suggest to go from Kolka to Mazirbe or even to Sīkrags (or vice versa). These are some 20 – 30 km (12 – 18 miles) one way. The area is in gorgeous Slitere National Park. The beach is amazing there. It is wide and sandy. The sand is not too loose for biking, yet it adds to biking difficulty level. Also, this is one of the most forested regions in Latvia. The forest roads are marked as cycling route 558 here.
On this bicycle route, you can choose cycling along the beach or in the coastal forest. You may also wish to visit several traditional fishermen villages Saunags, Pirags, Kosrags, Mazirbe and Sikrags on your way. These villages are old Livonian fishing settlements. Livonians are one of the smallest nations in the world with only about 250 people left.
Liepaja City – Pape Town
Another great biking route is from Liepaja City to Bernati, Jurmalciems, and Pape. It is altogether 56 km/35 miles mostly on a forest road in the forested dunes.
#4: Picking-up Wild Mushrooms & Berries
Latvian traditions are deeply rooted in nature. Many Latvians still go to the forests and bogs to collect wild mushrooms and berries. They are delicious and excel in taste any cultivated product you can buy in a shop. There is nothing like a taste of freshly picked and baked wild Penny Buns (King Boletes) or Chanterelles. Also, nothing can beat the aroma of wild strawberries and raspberries. And these are only some treasures that you can find in our forests and bogs.
However, you have to know what you are picking. There are many poisonous mushrooms that can be easily mixed with eatables. Hence it is better to take a local guide or a good manual with you. We have an old wise advice from our parents, grandparents and grand, grand, grandparents: "Pick only those mushrooms you really know!" I strongly suggest all the guests who visit Latvia follow this advice too. The most patient ones will be greatly rewarded.
Mushroom hunting season starts in late summer reaching the top in the autumn (September-October). To have a good mushroom quest we need several rainy days in a row followed by some warm sunny days. While usually there is no lack of rainy days in the autumn, don't take sunny days for granted when you visit Latvia.
The season for picking wild berries depends. For wild strawberries, raspberries and blueberries in the forests it is late summer. For cranberries and blueberries in the boglands, it is autumn. Cloud-berries are particularly healthy. You can find them in the boglands, not everywhere though.
#5: Bird-watching During Their Migration Is Amazing
You might not know this but Latvia is a superb place for bird-watching. It is not yet discovered by many bird-watching lovers from around the world. The spring and autumn bird migration routes go across the country. In the autumn birds travel from Scandinavia and northern Russia across Latvia to Southern Europe and Africa. Then they come back in the spring.
There are lots of shallow lagoon lakes along the Baltic Sea coast. The biggest ones are Engure, Kanieris, Pape, Babite and Liepaja lakes. We also have plenty of forests and flood-lands. This all makes Latvia a great dwelling place for many migratory bird species.
In case you are a keen bird-watcher you should not miss Kolka Cape too, where the open Baltic Sea and the Gulf of Riga meet.
Do you enjoy chasing new bird species for your checklist? Well, you could get ahead your "competitors" – other fellow bird watchers. Visit Latvia in April-May or September-October! We have in total 365 recorded bird species. One species for each day of a short year, if I may state it so. There are also lots of bird watching towers set up at the best bird watching spots. Thus bird-watching is for sure one of the best things to do in Latvia. Ask locals to arrange a great bird-watching trip for you.
#6: Cross-country Skiing Is A Great Activity During Winter
If you visit Latvia during the coldest and snowiest winter months in January and February, it is great to get out for a cross-country skiing trip. There are some dedicated tracks for this activity even in Riga city. These tracks are in Uzvaras parks, Bikernieku Forest, Imanta, Lucavsala, and Purvciems.
Yet if you want to enjoy this activity in pristine nature you should go to the Nature Park "Ogres Zilie kalni". The park is only 40 km/25 miles from Riga. You can choose skiing different distances there in a beautiful pine-spruce forest. The track is illuminated when it gets darker. Thus skiing there is a joy and an absolutely amazing experience.
Another great option for more serious cross-country skiers is skiing around Lake Alauksts. It is in Vecpiebalga Parish, 125 km/78 miles from Riga. You can even take part in the annual mass skiing event there.
Are you even more adventurous? You can give a try to the professional cross-country skiing and biathlon track "Smeceres sils" next to Madona Town. It is quite far from Riga (some 160 km/99 miles). However, you can book a nice inexpensive house or room there and stay overnight.