Originally, we went to Tenerife (Canary Islands, Spain) for a hiking trip. It is a great hiking destination. Yet there are also a lot of other things to do in Tenerife apart from hiking. Also, the legs need some breaks between hikes (at least from time to time). And during the breaks,  we were looking for something that is a bit less challenging but not less interesting.
I am the kind of traveler that loves different authentic experiences and I guess I'm not the only one. Hence, I looked for different things to do in Tenerife between the hikes. I am trying to list some of the best in this post.
1# Beaches In Tenerife
We Latvians have been spoiled by the beautiful "golden sand" beaches on our Baltic Sea coast. It sounds unbelievable. Yet there are not that many places in the World that could surprise us with their sandy beaches. That said I wouldn't go to Tenerife for beach holidays only. But I am "the spoiled Latvian".
The beaches in Tenerife are a bit narrow and often crowded. Yet, the warm and clear water of the Atlantic Ocean is more than welcoming. Also, the beautiful coastline compensates for the lack of intimacy.
Back To The Roots
I love the sea (and the ocean) and everything that is related to the sea. Probably I love it even more than the mountains and any other place because I have grown up next to the sea. I love to see different moods of the sea when it is calm or stormy. I love the sound of the waves and the peace that it brings. The sea charges me whenever I go there. And this is regardless of which part of the world I am. It gives the feeling of vastness and infinity. And this feeling is calming and refreshing.
On the subconscious level, we are all very much attached to the environment that we have grown up with. At least I believe that this is so. Our inner curiosity draws us to travel around the world and see different places. Yet it is all very much about feeling the difference. It is about the experience itself and not about the place. We travel to find our own way back to our roots, to find our real self. And it is best to be done through experience.
Secluded Beaches Tenerife
I am very selective when I choose to go to any beach. Wherever I go I try to find the most secluded and authentic place.
It is not a problem to find serenity in Latvia. While living or traveling to Latvia the crowds of people will not bother you. We have wide sandy beaches that stretch for 500 km (310 miles). The things are different when you are in any other southern tourist hot-spot. It is not that easy to find truly secluded beaches in Tenerife. The popular resort beaches in the south of the island were obviously not an option.
We had heard that two of the most beautiful beaches in Tenerife are Los Gigantes in the west and El Bollullo in the north. Hence these were our choices in the limited time-frame we had.
Los Gigantes
We came to Los Gigantes beach after our Masca walk. It provides gorgeous views on the cliffy Los Gigantes coast. To be honest it's a bit crowded for my taste even in the off-season. However, it's a great place to have a swim after the Masca walk.
Too bad for a public beach but there are no functional showers there. Thus washing away the salty water and sticky dark volcanic sand could be a challenge. Also, the toilets on this beach have not seen any improvements since the stone age.
Yet, swimming in the warm Atlantic waves especially after Masca walk is a must if you are there. This compensates for many inconveniences. Just note that by "warm" here I mean our Latvian-Nordic interpretation of what is warm water. For us, it starts at around 20 degrees Celsius (68 degrees Fahrenheit). I know that for "normal people" this sounds insane. But, yes, sometimes we go swimming when the water reaches only 15 degrees Celsius or so. This is why you can often see people from Nordic Europe swimming when others are shivering. It is OK for us. It's just like an ordinary Nordic summer! Not all of us are SO "crazy" though.
El Bollullo
The Challenging Road
El Bollullo beach is another spectacular place in Tenerife. It is not far from Puerto de la Cruz city. You can get there by driving on a narrow road wide enough for a one not very big car like ours.
Despite this fact, it is not a one-way road. Thus, it is very likely that there might be another car coming in the opposite direction. When this happens the next actions very much depend on whose nerves are stronger or who's politer. If you are lucky enough you are near a "street pocket", where you can hide-wait until another car passes by. If not, the "politer" car must go backward. This makes this adventurous drive even "funnier" on the already narrow road.
Despite all this sounds dangerous, it is not. Just a bit annoying. That said you have pretty good chances to get where the signs lead you alive.
At the end of the road, we left the car in a private parking lot. Yet we were not changed probably because it was November and off-season and there was nobody else around.
I'll have to disappoint the lazy ones at this point. Once you've parked your car you have not reached El Bollullo beach yet. What you see through already there is a gorgeous view down the cliff to the beach.
To get to the beach itself you have to go down the steep coast. However, compared to Masca walk or hiking in Teide National Park it is nothing to blame about.
The Beach With Restrictions
Once you are down on El Bollullo beach you realize that this place is not for swimming. The big red flag and a clear "No swimming" sign are clear warning messages.
Besides, the sign looked permanent. The Atlantic Ocean is cunning there, especially in the winter. Thus it is not suitable for swimming.
There was only one lifeguard on the beach. He looked almost like the dive instructor from the movie "Along Came Polly"; with pants on though.
On the surface, he was as careless as the guy in the movie. Yet, he was very alert about what's happening on the beach. As soon as I got in the water a bit deeper than my knees' level I could hear everything that he thinks about me. He said that in Spanish. Although I didn't understand much it was pretty convincing. I guess it's good that I am not that good in this language.
Otherwise, El Bollulo beach is a charming and secluded place in Tenerife. Well, it's relatively secluded. Also, morning exercises of a team of middle-aged men like me made it a bit less charming that morning when we visited it. Yet I must agree with other reviews that there is something special about this place.
It is not more than a couple of hundred meters long black sand coastline. El Bollullo is embraced by high cliffs, and there is only one way up and down to the beach. Apparently, this is why not that many people are out there.
There is one simple restaurant on the beach. You can also rent plastic lying beach chairs there. Thus, El Bollullo is not one of those wild beaches where you can feel total serenity. Yet it will give a nice shelter from more touristic areas in Tenerife if you search for that; at least for a while.
Tenerife Beach – Black Sand
Tenerife is a volcanic Island. Its highest peak is Teide Volcano. Thus, beaches in Tenerife are naturally covered with black volcanic sand. We've more got used to the "golden sand" beaches in Latvia.  Yet I had been to several other beaches on Earth with black volcanic sand earlier. They are truly amazing. Some of them, like the one in Corcovado National Park in Costa Rica, are breath-taking.
You can also find so-called "golden sand" beaches in Tenerife. Yet they are all man-made on the more touristic Southern coast of the Island.
#2 Loro Park
Among the most popular things to do in Tenerife is visiting Loro Park. It is 13.5-hectare (33-acre) large modern zoo near Puerto de la Cruz. Loro Park is one of the biggest attractions of the Canary Islands. Thus, needless to say, it is a touristic spot.
Loro Park has the largest parrot collection in the world. Thus, the park has a great authority in the study and conservation of these birds worldwide.
Loro Park keeps orcas, dolphins and sea lions. I am not a fan of shows that involve animals. Yet these shows are indeed very well-arranged, educational and fun to see. There is also a big research work ongoing behind the scenes. It is also clear that the park needs to sustain itself. Thus, such activities are more than justified.
The park also keeps gorillas, tigers and there is a great aquarium.
It is a full-day attraction and it is interesting both for adults and kids. Yes, the park is touristic and commercialized. Yet there are clear benefits and a greater goal beyond the commercial surface. Thus, it is one of the best things to do in Tenerife. After we visited gorillas' premises I am still not sure who's actually watching whom there. They are so intelligent and amazing creatures.
Why Are Zoos Still Important?
As a biologist, I enjoy everything about nature and animals. I know that many people are skeptical about zoos and zoological parks. However, I've grown up with the books of the great English naturalist Gerald Durrell. He was a famous zookeeper, conservationist, and writer of the 20th Century. Thus, since my childhood, I don't see every zoo as a prison for animals.
Today, modern zoos are not only places for people to watch wild animals. They play an important role in the conservation of rare and endangered species. Zoos are also places that educate people about animals and ecology. Ideally, different prejudices are broken and fears dissolve there.
Yes, there are still many bad examples of the "zoos" in the world. It is not uncommon that animals are kept in bad conditions. I've seen big tigers and bears stuffed with drugs just to be able to take close-up pictures with them. It is incredible violence! There are still such miserable places. Yet, they exist because people go there and support them. Often it is because people are unaware and do not actually know what they are doing and paying for. Sometimes they just don't care. Therefore, the educational work done by modern real zoos like Loro Park is so important. Education leads to understanding and compassion, and compassion is the only way to stop the violence.
#3 Best Places to Eat in Tenerife
Best Things To Do In Tenerife: Go Local – Go Authentic!
Wherever you go you are looking for some sort of authenticity, right? You try to escape mundane life even if you go for a beach vacation in a resort. We all seek for something new that we cannot have at home.
One of the first and best places to get authenticity in the local kitchen. Thus, enjoying the local food is definitely among the things to do in Tenerife too.
With the local kitchen, I don't mean fancy restaurants that call themselves authentic. They might be, in a way. Yet, it is possible that it will still be a polished authenticity that you will pay dearly for.
Find a good place where locals go to eat! First, you'll get to know a lot about local food. Second, there is a chance that you'll get to know much more about the local traditions than anywhere else.
More Than Just A Dinner
While traveling in the southern countries late dinner becomes the must. This is the most important meal of the day. Yet it's not just a meal.
Having dinner outside your home in the South is the very act of socialization itself. This is when you have time to talk with your friends, neighbors and family members. This is the time for the people who are important to you. And this is the time for delicious slow food as well.
We found such a nice place for dinner not far from our cozy hotel called Bodegon Los Muchachos. Well, we didn't find it. Our kind hosts Victor and Lara recommended us this place on the first evening we arrived.
We couldn't be happier. We went there almost every evening after we returned from our hikes. The local atmosphere comes at no cost and simple yet delicious meals at a low-cost. And we came back for that again and again. The place was irresistible and sucked us in.
Communication Without The Words
The host of the place did not speak English. Neither there were any menus in English. The only menu was written on a blackboard in Spanish.
We could understand maybe some 10% of what was on it. The names of the local dishes cannot be translated anyway, neither they are meant to be. Yet on the first evening, the host welcomed us into the kitchen. He showed us the ingredients of our upcoming meal without any words. It was fantastic! This man loved what he does. It was obvious that he treats all his clients like the dearest guests. Not that he was the most smiley man in the world or excessively friendly. No, he just welcomed us warmly regardless of who we are and where we are coming from.
He's got to know everyone that came into his place in person. Yet at the same time, he was in no way intrusive. I'm sure that his passion for what he does was what pulled us back to this place almost every evening; even more than the delicious local food.
I believe that this attitude is based on deep self-sufficiency. Not a single Michelin star could replace it. That said I do not have anything against Michelin-starred restaurants. It is just a different experience.
In case you'll find Bodegon Los Muchachos in Tenerife you will be lucky. Yet my purpose was not to recommend any concrete place here. Best places to eat in Tenerife or anywhere else are truly authentic local eateries. Find any place that locals go to and love, and you will not be disappointed. If you cannot find such a place, ask for recommendations – locals know!
What to eat?
So, what about the local food itself. Well, as said it is simple yet tasty in Tenerife. A dish that I particularly enjoyed was the octopus with small oven-baked potatoes.
Seafood is a must in Tenerife if you like it. There are also some great dedicated seafood restaurants to go to.
Restaurante Cofradía de Pescadores de San Andrés is one of such places. It is humble from outside and inside. Yet, it offers a good variety of seafood. Besides, it is highly hospitable. I was obviously very excited about the food, sea views and the company when I was there. Hence, I left my wallet with most of my documents and money on the table.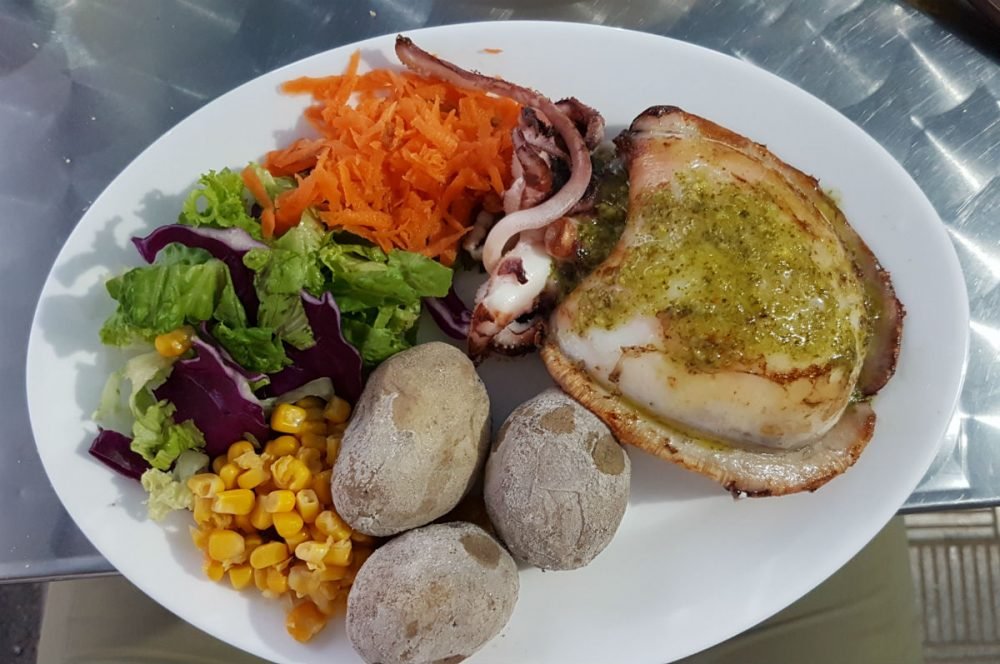 However, they were so nice to send me all my stuff by post later to Latvia. Isn't this the best recommendation that any place could have?
Summing-up
There are several great things to do in Tenerife. This is regardless you go for hiking or any other type of holidays there. Yet I know hikers are that kind of people that value serenity and authenticity a lot.
For me, during the summer nothing can beat the beautiful secluded Latvian beaches. Yet the autumn and winter are inevitable and harsh phenomena. It's the time when we – nordic people start looking for a warmer place to have at least some glimpses of the sun. Tenerife is definitely on our list in this regard.
Hiking and the chill-out on the beaches of Tenerife is definitely a good combination. Especially if you go there off-season.
Modern zoos are not bad places. Supporting them means support to the endangered species' conservation efforts, which is good. Besides you get a lot of knowledge and a great time there too. From this perspective, Loro Park is a great place to visit in Tenerife.
Last but not least enjoy local food in local places, where the local people eat! This will give you the most authentic experience.
Regardless where you are coming from or where you are going to the following simple travel tactics may work for you the best:
#1 Spend your hot-season summer holidays somewhere in the North. In a place like Latvia, you are more likely to find serenity than in any other southern touristic hot-spot. Latvia is neither overcrowded nor too hot in the summer. Besides if you like unspoiled nature, it is a place for you;
#2 Go to Tenerife or similar touristic hotspots during your autumn or winter holidays. During the off-season, you can find some serenity even in very popular places there. Flight tickets are likely to be much cheaper when it is off-season too.
Do not contribute to the deterioration of beautiful nature and cultural values or the world with your extensive presence there during the peak tourism season. Today most of the popular touristic places suffer from crowds of tourists a lot. Instead, go there during the off-season! First, you will help to save these values for the next generations. Second, you'll also save some nerve cells. Third, you'll bring some income to the locals not just in the peak of the tourism season.
In other words, make the entire year to be your travel season. Plan your travels smart and sustainable and you'll be rewarded!