The beauty of Northern Thailand and its heart town Chiang Mai is hardly any secret anymore.
Northern Thailand and Chiang Mai is surely an authentic Thai destination to go. It has beautiful nature, mountains, rich Buddhism cultural heritage, excellent and inexpensive food, affordable accommodation and a less humid and more bearable climate than Southern Thailand.
Here's a different 9 days Northern Thailand itinerary for you. It's a packed (yet balanced) combination of self-guided activities and a couple of local tours. You can easily swap, extend, shorten or change any element of this itinerary as you wish.
We strongly suggest reserving at least one week for your travel to Northern Thailand. That's a minimum. We felt short with those 9 days that we had, to be honest.
Northern Thailand & Chiang Mai 9 Days Itinerary Highlights
Here are the top 12 highlights of our Northern Thailand Itinerary that will make your trip special and unforgettable.
Chiang Mai Old Town
Yee Peng Lantern Festival (if you are lucky to be there at that time)
Chiang Dao Caves
Wat Tham Pha Plong temple in Chiang Dao
Motorbike day trip in Pha Daeng National Park
Pai Canyon
Earth Split in Pai
White Buddha in Pai
Pai Bamboo Bridge
Chiang Rai White Temple (and it's a golden toilet)
Golden Triangle
Doi Inthanon Heaven's Trail
Day 1: Getting to Northern Thailand: Bangkok to Chiang Mai
We arrived in Bangkok one day before and stayed there for one night.
Transport to Chiang Mai
There are three (reasonable) options to get from Bangkok to Chiang Mai: the bus, the train, and the plane.
By train
The train is the most scenic way to go there. Yet it will take around 12 hours to get from Bangkok to Chiang Mai. It is just too much if you've spent 10 hours on your international flight a day before. For traveling by train in Thailand you must book the ticket in advance with a travel agency.
By plane
Flying is the shortest way to get to Chiang Mai. The flight takes only 1 hour and 15 minutes. There are several local airline companies that run this popular route. The most popular are Thai Air Asia and Nok Air. The flights leave both from the new airport Suvarnabhumi and from Don Mueang.
We observed that prices for the flights to Chiang Mai vary from day-to-day a lot. So, it's a good idea to book in advance.
By bus
Traveling by bus from Bangkok to Chiang Mai takes 9 – 10 hours. This is not a breeze. Yet, the buses are comfortable. The one-way ticket from Bangkok to Chiang Mai will cost you around 600 TBH (the price depends on the bus line and the comfort level you choose). For this price, you will get plenty of leg-room, water, and snack on your way. We chose a bus and booked it online in advance.
A popular Asian site for booking of transportation online is https://12go.asia/.
The jet lag worked in our favor this time. We spent most of those 10 hours in a deep sleep.
Getting around in Bangkok
You should always consider extra time for getting to the airport or to the train/bus station.
Bangkok is huge. Luckily the network of BTS Skytrain and metro are very convenient and very well connected. We especially loved the ticketing system. Pay for the ticket. Get an electronic chip. Register it before your ride and keep it until the end of your ride. Then just drop it in the machine at the exit. This way, chips are reused again and again. No paper or plastic tickets, less environmental impact and it's convenient too.
We also recommend using the mobile app "Next Station Bangkok" to get a clear idea, which station you are. It's very convenient.
Transport in Chiang Mai
Once in Chiang Mai, the only reasonable local transport option from the bus station to the town center is a taxi. This will cost you around 200 TBH. I suggest that you find other travelers (who will most probably travel with you on the same bus) to share the costs. We did so.
The same applies to get from/to Chiang Mai airport and train station.
You can also take the famous Thai Tuk-tuk. Yet, it is very overpriced for tourists. So be aware of scams.
Whether it is a taxi or a Tuk-tuk always agree on the price before your ride.
Evening in Chiang Mai
We recommend staying in Chiang Mai Old Town or very close to it. This way you will be close to the main points of interest. Most of them are within walking distance there.
Chiang Mai Old Town is a square surrounded by the former fortification water channel and some remnants of the ancient fort. It is very easy to get there and understand where you are.
Check-in in your hotel and have a survey walk.
We were lucky to arrive right at the time of the world-famous Yee Peng Lantern Festival.
The festival takes place on twelfth lunar month every year. This year it was on 11th November.
Chiang Mai gets lots of visitors at the time of the festival. So, I'd recommend booking your accommodation in advance.
That night the city was crowded. The buildings were decorated with beautiful colorful lights. We walked around in the crowds and enjoyed all kinds of street performances, lights, and illuminated temples. We also had the first glimpse of the delicious Chiang Mai street food.
Time for a Thai massage!
We also took the famous Thai massage on the first evening (and repeated it every second day during our stay in Northern Thailand).
One hour of Thai massage in Chiang Mai costs ridiculous 200 THB (you can get it even for 150 THB!). In Southern Thailand, you have to spend twice this price (still cheap though).
The crowds in Chiang Mai can be tiring during the festival. However, the city rewards you a lot with its friendly atmosphere, delicious food, and affordable prices.
Book some tours or transfer for the next days
We also recommend doing some local surveys of the things to do and prices for the tours for your own Northern Thailand itinerary. The hotels usually have deals with local tour operators and guides.  Thus, you'll get plenty of suggestions right at your accommodation place.
We had a plan to go to Chiang Dao the next morning. Hence, we booked the taxi to get to the local bus station (costs around 150 THB).
Day 2: Chiang Dao Caves – Wat Tham Pha Plong Temple
Getting to Chiang Dao
It takes about one and a half an hour to get from Chiang Mai to Chiang Dao with a public bus.
We suggest taking the public bus as it is cheap (only 50 TBH), authentic, convenient enough and goes often.
Head to Chang Phuak bus station in the North of the Old Town. The buses go from 6 am to around 7:30 pm daily every half an hour.
What to expect from Chiang Dao
Chiang Dao is a small town to the north of Chiang Mai. It is home to the third highest mountain in Thailand after Doi Inthanon and Doi Pha Hom Pok.
Chiang Dao itself is a tranquil town with beautiful views of Dao Doi mountain and its hilly surroundings. The town's tranquility is a big contrast to the bustling Chiang Mai.
Where to stay in Chiang Dao
The bus from Chiang Mai stops at what we can assume is the center of the town.
We recommend booking a homestay close to the famous Chiang Dao Caves in a green area away from the center. There are many well-rated options that you can find on Booking.com.
We paid 150 THB to get from the town center to our homestay Chiang Dao Story Camp by taxi.
For some 750 THB, you get a bungalow with a big bed with mosquito net, a fan, and super thin walls. It also comes with beautiful views, breakfast included and a very peaceful atmosphere.
The overnight experience with a loud rooster in the early morning was probably not the best. However, the guest house is family-owned and has a very authentic touch and feel. The owner was super friendly, and he brought us to all the main sightseeing points of Chiang Dao in his own car.
What to do in Chiang Dao
Chiang Dao is small. All the main sightseeing points are relatively very close to each other. Some were at a walking distance from our guesthouse.
With the help of our kind host, we visited all these places on the same day we arrived from Chiang Mai.
Chiang Dao Caves
Chiang Dao Caves is what many travelers are getting here for, and they're worth it.
The entrance fee in the caves is just 40 TBH.
There are two routes in the caves. One is more touristic. It is an illuminated, easy, non-guided version, where you can go on your own. The second is more challenging. You can go there only with the guide and it will cost you 200 TBH extra.
We recommend taking both routes. The guided tour is awesome despite the guides don't speak a word in English. The guide will go with you with a flash of gas lightning. The light is strong and makes awesome shades on the cave walls. You'll explore many dark corners of the cave and see the bats on your way.
The caves are very impressive. In some places, you'll wander through huge halls, while in some you will have to get on your knees and crawl to get through a narrow pass to the next hall.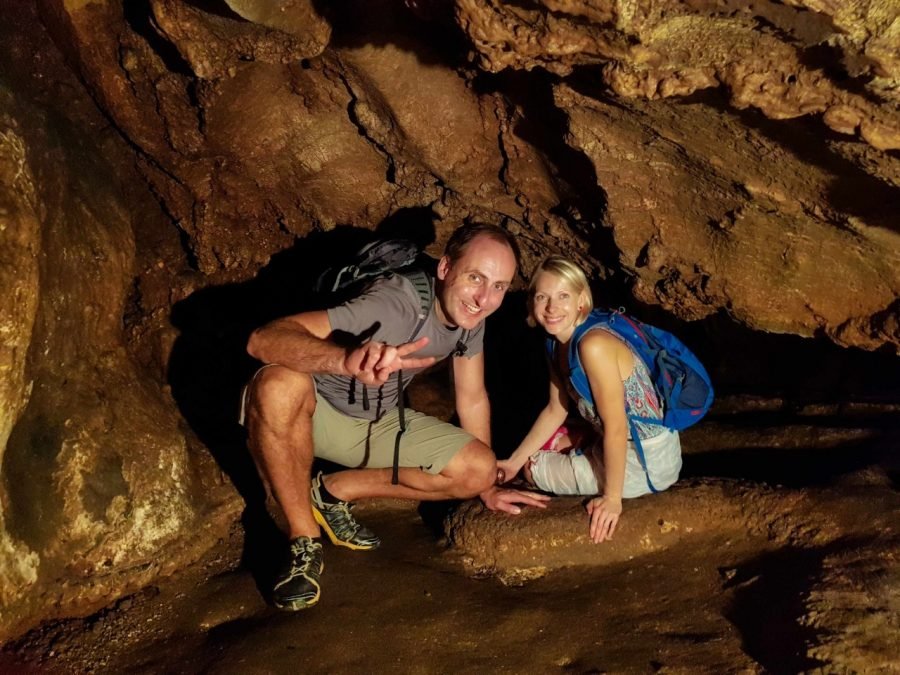 The stalagmites and stalactites in the caves make awesome shapes. Turn on your imagination and you'll suddenly discover different animals and creatures on the walls. The guide will surely help to expand your imagination if you manage to understand what she is saying.
It's humid and hot there but overall it an awesome experience that exceeded our expectations.
Wat Tham Pha Plong Temple
Wat Tham Pha Plong is another place to go while you are in Chiang Dao.
It's a temple on the hill in the middle of the jungle. It takes 510 steps to get there. However, most of the walk is in the pleasant shade of the trees.
The views are gorgeous, and some Buddhist wisdom words on the boards will encourage you until you reach the top.
Once you're up in the temple, you don't want to leave. Hilly jungle landscape and peace out there are mesmerizing.
A Hidden Temple
Our guest house host was kind enough and brought us to a less-visited awesome Buddhist temple near Chiang Dao. The only persons we met there were a monk and some workers. Now there is a task for you. Can you find it? Write down a comment if you did.
The monk swiped the big road to remove all the small living beings from it, so they don't get injured or killed accidentally. It was Buddhist compassion in action.
Have dinner in Nest 1 or Nest 2
It's very popular to have a dinner or launch (or both) is probably the most popular resort/restaurant in Chiang Dao – Nest 1 and Nest 2.
Both are great places to go to. Nest 2 serves Thai food while Nest 1 focuses on the international menu. We chose Thai food, of course, and it is awesome there. Just be aware that you must book your spot for lunch and dinner in advance. They usually do not serve food to the ones who show up unexpectedly.
Climb Doi Chiang Dao Mountain
Hiking up the highest peak of Chiang Dao (2225 meters) – the third-highest in Thailand was initially one of our highlights.
We were unlucky though. The mountain area was closed for visitors at the time of our visit because of the recent forest fires.
Usually, it takes about five hours to get to the summit. You can hire a local guide and get the trip done within one day or you can opt for an overnight trip to the mountain. Unfortunately, we had to leave it for our next trip to Chiang Dao.
NOTE: Hiking Dao Doi would add at least one more day for your stay in the Chiang Dao area.
Just chill-out
Chiang Dao certainly has plenty of things to see and visit. Yet it is also a perfect place for doing nothing.
Have a cold drink, take a seat on the terrace of your guesthouse and enjoy the gorgeous views on Chiang Dao mountains.
The time disappears here until it gets dark and a bit chilly. Chiang Dao is a special and memorable place. Just don't forget to buy a mosquito spray. You'll need it here.
Day 3: Chiang Dao On a Motorbike – Visit Pha Daeng National Park
Rent a motorbike
Riding a motorbike in Thailand is a challenge. Nevertheless, we chose to go for this adventure and it turned out to be one of the best highlights of our trip.
You can rent a semi-automatic motorbike for around 300 THB. The easiest way is to ask your guesthouse to arrange it.
We also recommend considering rending the motorbike as soon as you arrive in Chiang Dao (if you feel safe riding it, of course). All the sightseeing spots mentioned on Day 2 above are relatively close to each other, but you'll still need some transportation (ours' was the guest house host). That said some sites are close but not close enough for walking.
Beware to ask for a semi-automatic/manual motorbike. The roads are steep and curvy here, and there is no way a fully automatic gearbox would cope with them.
Day trip in Pha Daeng National Park
We had two options today. Both required renting the motorbike. The first one was visiting well-known Pong Arng Hot Springs and Sri Sangwan Waterfall. The second was going for a day trip from Chiang Dao up in the mountains in Pha Daeng National Park.
The hot springs didn't seem the most appealing option for the hot Thai weather. Also, impressive waterfalls awaited us in Doi Inthanon area later on our Northern Thailand itinerary. Hence, we went for the off-the-beaten-track self-guided option to Pha Daeng National Park.
Riding the motorbike is a good option in Thailand if you are not a fan of hiking in hot and humid weather. Yet be ready for some thrill before you get used to it. That said this option is for adventurous. You will have to switch gears (often to the first), beep before sharp turns, and feel comfy with riding up and down the steep road.
Also, be ready to pay the standard 200 THB national park entrance fee for foreigners.
Nevertheless, this adventurous choice rewarded us with some of the most scenic and authentic views in Thailand. The road up in the mountains goes through lush jungle, reveals gorgeous views on the mountains and leads to some small local villages to stop by.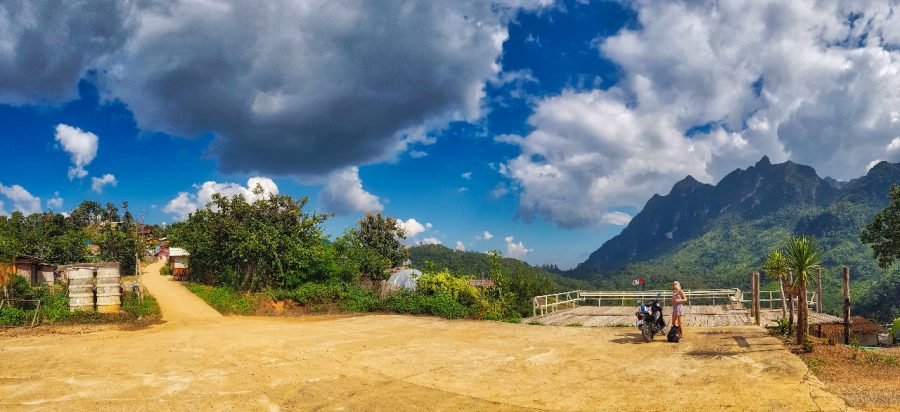 We drove deep into the real Thai rural landscape, and for the most of our trip, we were the only ones on the road.
Going back to Chiang Mai
Our self-guided national park trip took around six hours. We got back by 4 pm, had another great late Thai-food lunch in one of the tranquil Chiang Dao restaurants and left our motorbike in the guesthouse.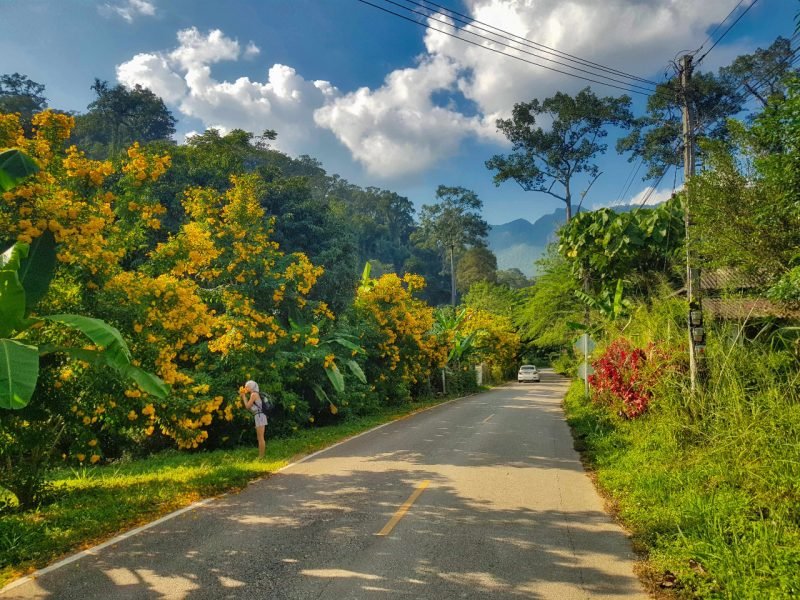 The host helped us to get to the bus station (for an extra charge of 100 THB this time).
We took the bus back from Chiang Dao to Chiang Mai late afternoon, feeling content of what we had experienced during our first days in Northern Thailand. Chiang Dao is a place to return.
This was a perfect evening for another round of Thai massage in Chiang Mai.
Day 4: A Day Tour: Hiking – Visiting Elephant Sanctuary – Whitewater Rafting
Visiting an elephant sanctuary is one of the Chiang Mai highlights.
I'm a biologist and conservationist. Thus, I've always been very skeptical about entertainment activities that involve animals. Elephant sanctuaries were not an exception.
It's well known that riding elephants is a no-go. While sitting on a huge animal like an elephant might seem a harmless activity. It's not. Elephants suffer greatly and get emotionally broken while being taught to entertain tourists. Have a more detailed look at sustainable travel principles here.
Travelers are still interested in more ethical interaction with theses graceful animals though. Therefore, elephant sanctuaries are flourishing in Northern Thailand.
Most of the elephant sanctuaries provide shelter for the animals before heavily exploited. Indeed so, the elephants spend much better days in most of these places. The travelers can feed the animals, take mud baths and swim with them. Riding the elephants is not allowed. Also, the visitor groups should be small, thus reducing animal disturbance to the minimum. Thus, animals seem to have a very relaxed daily routine. Let's look at our experience now.
Elephant Sanctuary combined with hiking & rafting experience: Three in one
The local tour operators in Chiang Mai offer several options to get in touch with the elephants.
One is to spend a full day with elephants. Another is to combine this experience with other activities mostly in Doi Inthanon National Park area.
We chose a combined experience of hiking, rafting and elephant sanctuary all in one day. The plan was to test each of these activities so we can "dive deeper" (do more of them) in the days to come.
Here's why this was a bad (or maybe not that bad) idea; it depends on how we look at it.
First, we were unlucky to get in a big group of super loud young Spanish tourists. From the first glimpse, it was clear that this won't be an easy day. They were literally screaming all the way. The guide's weak efforts to calm them down were fruitless. Thus, we had accepted what is.
Hiking
After quite a noisy hour and a half, we finally reached our tour destination.
We started out tour with around two hours hike to a popular local destination – a small waterfall called Huay Sathan. By going a very touristic route we didn't have huge expectations. The area itself is beautiful. We even managed to "escape" from our noisy group for a while. Yet there were many other groups visiting the same hiking trail and the waterfall at the same time.
You can have a swim in the waterfall if you wish. However, I didn't have any appeal to do it. There were simply too many people. Later on, the tour operator explained that there were more people than usual due to the ongoing Lantern Festival in Chiang Mai. Yet the place itself did leave an off-the-beaten-path impression as such.
Doi Inthanon is a gorgeous area. There are plenty of options for great day hikes. The local tour operators should really think of how to make their experiences more authentic. The tourist flows can be distributed more equally among many places and choosing different times of visiting the most popular places.
Overall, we recommend skipping this place and go hiking elsewhere.
Visit the elephant sanctuary
Above all, I must say that the elephants we met were gorgeous. We visited a small elephant sanctuary with two elephant females and a senior elephant male.
The close contact with the elephants is truly unique. We were able to feed the elephants with sugar canes, and we went for a swim with them in the river.
Yet the ones who usually spoils the experience are visitors led by unprofessional guides. Our super loud group didn't facilitate a truly authentic experience. Also, soon after a new (even bigger) group arrived, which made the place even more crowded.
We enjoyed the company of elephants but did not enjoy the way the experience was organized.
There are many excited and positive testimonials from the visitors of elephant sanctuaries in Northern Thailand. Yet for me, it still leaves an impression of business priority over elephant wellbeing. I'm not a fan of wild animals being held in captivity for human entertainment in general.
I'm sure there are many positive experiences out there. Yet I would urge you to explore them very carefully before you go.
There are only 3,000-4,000 Asian elephants left in Thailand. Around half of this number is domesticated but remaining are living in national parks and reserves.
That said, likewise many other large mammals in the world, elephants have become endangered species. I think we should largely prioritize their habitat conservation and increasing their numbers in the wild instead of supporting any businesses that keep them in captivity for entertainment.
Rafting in Mae Taeng river
I love whitewater rafting. I've had good and bad experiences with it all over the world.
We didn't have any huge expectations from a short rafting experience in a combined tour – only an insight.
Apart from the lousy group that miraculously kept its loud energy high till the end of the day, the one and half hour rafting experience in Mae Taeng river was actually ok.
Yes, the two Spaniards in our boat had no idea how to paddle. Nor they showed any enthusiasm in doing it. This fact in its turn didn't make our local boat captain happy.
Nevertheless, the rapids in the Mae Taeng River were nice and adventurous. Hence, we assume that taking a full-day whitewater rafting tour would be a thing to do in Northern Thailand. This is on a condition that you are lucky to get great like-minded boat buddies of course.
The rafting-only trip would be the one we would choose instead of this one next time for sure.
Elephant poop shop
On the way back to Chiang Mai we stopped in the shop where every single item is made out of elephant poop(!) Elephant poop contains lots of unprocessed plant tissue. Thus, smart local entrepreneurs have found a very original and practical use for this eco-friendly material.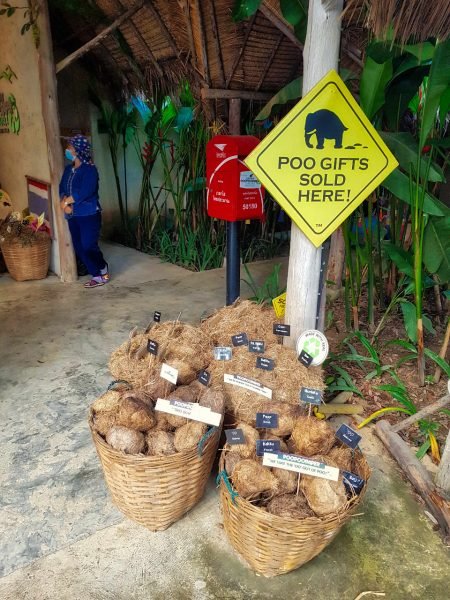 You can buy souvenirs made of elephant poop (and no, they don't smell). These include notebooks, t-shirts,  key rings, etc. While the idea itself is truly original, the stuff made of elephant poop is not very cheap. Hence, if you are not into souvenirs very much (like we) you may limit yourself to some funny pictures here.
Even not being the very best experience our combined tour reached its goal. We got some valuable insights on what to do and what not to do on our Northern Thailand Itinerary next time. I hope these tips will help you too.
The tour costs were 1700 TBH, which is a very good value for money.
Day 5: Travel to Pai – Chinese village – Mo Paeng Waterfall – Pai Canyon
For the next day, we had a plan to visit Pai.
Pai is a small town in Northern Thailand. It is known for its natural surroundings, beautiful landscapes, waterfalls, and rural Thai atmosphere.
Pai used to be a tranquil place like Chiang Dao today. Yet its popularity has turned it into a hipsters' travel and party destination in Northern Thailand.
Pai has plenty of affordable accommodation choices. Many of them immersed in lush jungle-like greenery.
Renting a motorcycle in Pai is a must. All the sightseeing sites are scattered in distances best accessible by a motorcycle.
Police in Pai
The tourist police are very active in Pai as well. You might expect this place to be very tolerant of tourists. Generally, it is. However, the police stopped us twice during our two-day stay there.
Pai is close to the Myanmar border. Hence occasional drug traffic is still an issue here. For the first time, the police stopped us on a lonely road section to check for drugs. We didn't have any and you better don't have either. The punishment for keeping drugs in Thailand is severe (up to death penalties).
For the second time, the police stopped us in Pai town along with all other foreign motorcycle riders passing that street. They were checking if we have an international driving license. It's a piece of paper that most travelers don't have, and the police know it.
None of the police officers asked any ID from anybody. First, they just found out that we don't have the type of license they wanted to see. Second, they wrote a piece of paper presumably concluding this fact (it was in Thai, so I cannot guarantee it was so). And finally, they asked to pay 400 TBT fine in the police office nearby.
The result was that none paid anything. Motorcyclists just continued their way with a piece of paper in their pockets. The only effect this behavior had on the police officers was that they stopped smiling. We still wonder how legal this police raid was. Later on, when we booked a car in Chiang Mai, our European Union driver's license was recognized as good enough.
Yet, we'd urge you to get the international license before your trip to avoid any similar problems.
Places to see in Pai
Pai is so small that you can see almost all "must-see" places within one day there. However, you will need a motorcycle and a dose of bravery in driving it on the left side of the road (at least for those coming from right-side driving countries).
Chinese village and Yunnan cuisine
The first place we visited was a Chinese village a couple of kilometers from Pai. The place had a bit of tuned Chinese charm. We tried the famous Yunnan cuisine here and it was delicious.
If you continue going up-hill through the Chinese village, you'll get to a viewpoint. The views are nice from here, but I'm not sure it is worth paying 100 THB extra entrance fee. Pai town and its surroundings have many other beautiful viewpoints that you can go to free.
Mo Paeng Waterfall
On the way back from Chinese village we stopped at the famous Mo Paeng Waterfall. The place itself is nice to spend some time and have a swim in a refreshing river. Yet be ready to pay 100 THB entrance fee.
Pai Canyon
Pai Canyon is a "must-see" place when you are in Pai. It is particularly popular for sunset lovers – that say most foreign Pai visitors, including us.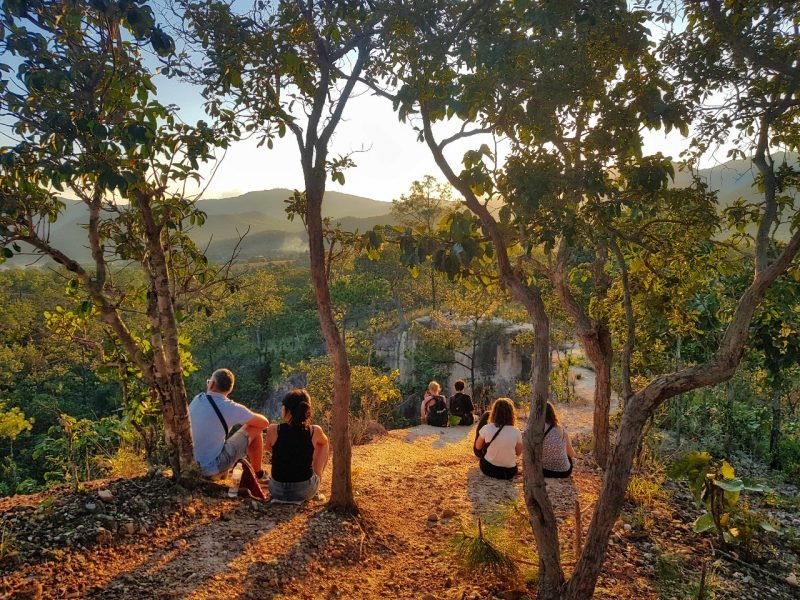 Pai Canyon is an awesome sandstone formation worth visiting. The sunset views are gorgeous. Yet there are some drawbacks.
Pai Canyon is super crowded at the time of the sunset. It has many narrow hiking paths with spectacular views. The problem is that the walking paths are not safe. There are no safety fences or ropes to held to whatsoever. You must hardly rely on your balance skills only.
Also, the sandstone cliffs are very soft. It is obvious that the huge visor flow leaves a harsh effect on the site. The erosion is obvious here.
Pai Canyon is surely a less crowded place if you come earlier during the day. Yet the trees and vegetation are scarce here. Thus, expect to be exposed to the burning Thai sun during your day-hike. This is also the reason Pai Canyon is more popular at the time of the sunset.
Nevertheless, we highly recommend visiting this beautiful place. It's about 20 – 30 minutes from Pai town. We also strongly suggest leaving some time before most of the other sunset lovers to avoid crowds and hustle in the parking lot.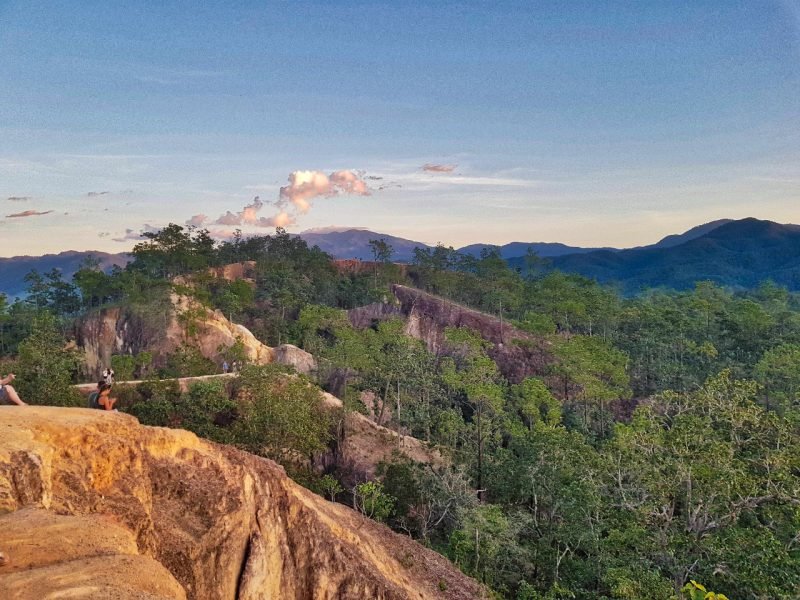 Pai walking street
There are some more things to do in Pai during the evening.
As said Pai has a nightlife – and a bustling one. The walking street gets "walking only" from 7 to 11 pm. You can choose among plenty of street food vendors, restaurants, and even some night clubs here.
The cuisine in Pai is very much aligned with western tourists' needs to make us feel a bit like home. I try to stick to local authentic dishes wherever I go. Yet, it was not that easy in Pai compared to Chiang Mai or Chiang Dao though. Most of the food is already "too western" there.
That said Pai town itself was a bit touristic for our taste. While its surroundings are truly spectacular.
Day 6: White Buddha – Pai Land Split – The Bamboo Bridge – Pai Countryside
For the second day in Pai we planned some more "must-see" places and going a bit off-the-beaten-path again.
Big White Buddha
You'll see the famous Big White Buddha or Wat Phra That Mae Yen from almost any place in Pai. It's a popular place for evening meditation and meeting the sunsets.
We started our second day in Pai here. White Buddha elevates above the town. It is an impressive white statue and symbol of Thai deeper values.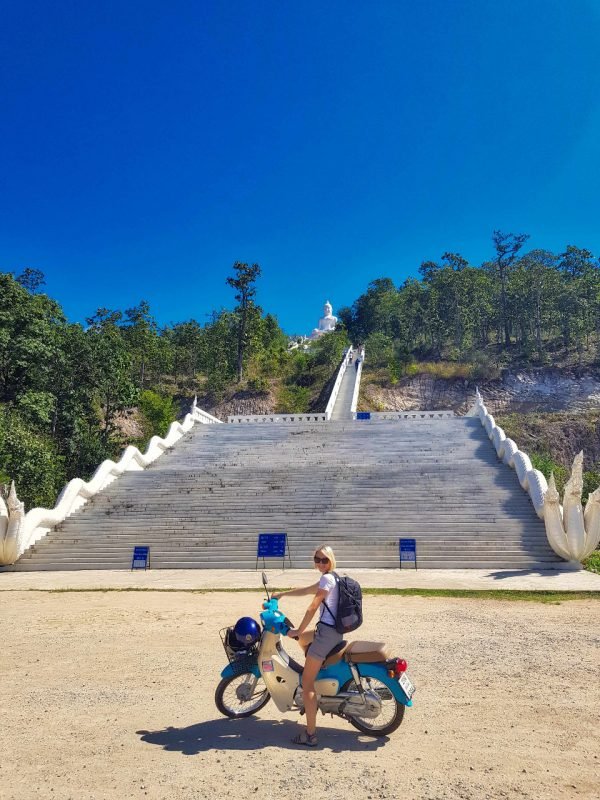 Even in the morning sun, it is quite challenging to climb all the stairs that leads to White Buddha but it's totally worth it.
The views from above to Pai town and its surroundings are gorgeous, and the peace you'll get there is mesmerizing.
Pai Land Split
Pai Land Split is a result of an earthquake that took place in 2008. It turned into one of our favorite places in Pai.
You can descend and wander around in the land crack that is about 2 meters wide and 11 meters deep.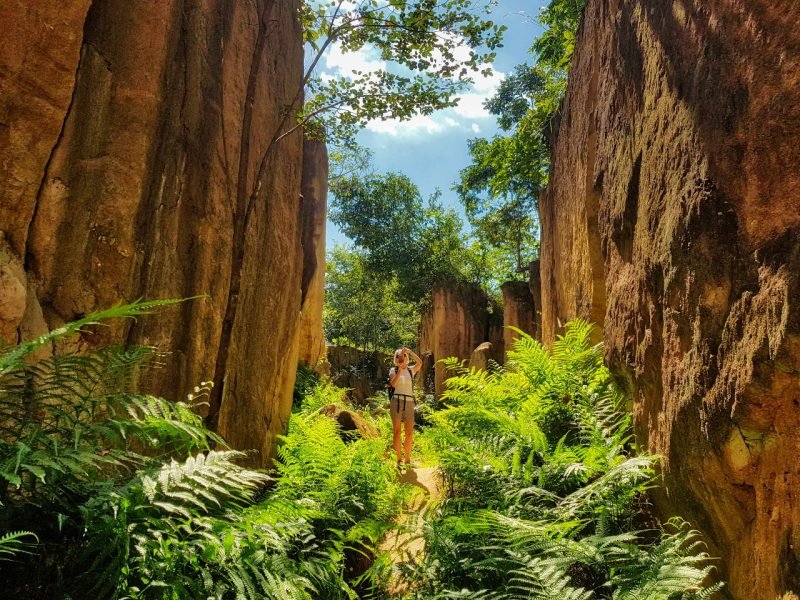 You can also buy an awesome home-made juice and chips from a single vendor at the entrance. He gives you to try all the goodies for free (as much as you want).
There is plenty of shade and only a few people (at least if you go there on your own in the first half of the day).
Pai Bamboo Bridge
Pai Bamboo Bridge is an 800-meter long bridge that stretches over a field of lush rice fields.
The place exceeded our expectations. The bridge is longer than it looks at first glance, and it's somehow a strange pleasure to walk on the bouncy bamboo sticks. They seem very fragile but they're not.

The views on the rice terraces are spectacular. There are also not many people when you go there on your own. Thus, Pai Bamboo Bridge is a place worth visiting.
Pai countryside
Most of the people who visit the Pai Bamboo Bridge seem to go back to Pai from here. Yet we decided to go a little off-the-beaten-path and explore more of the Pai countryside.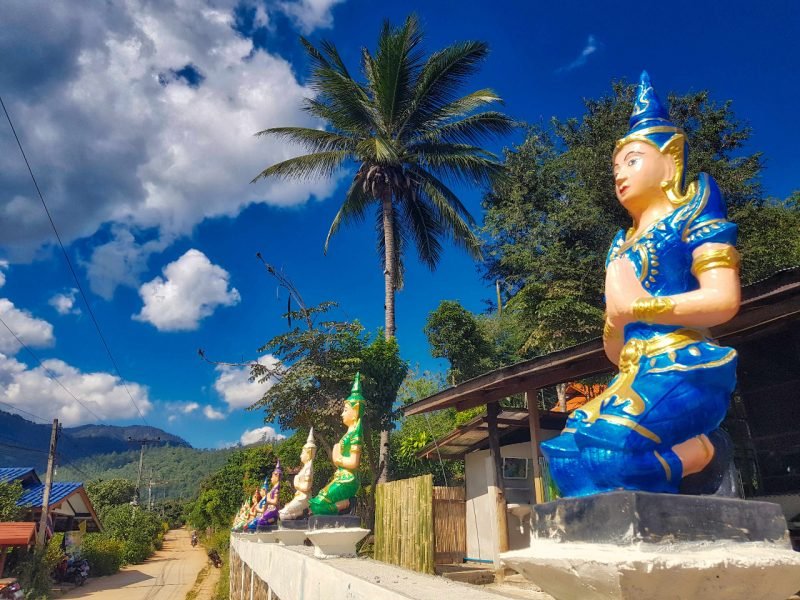 The road that leads to Bamboo Bridge continues further on in the countryside. Bumpy asphalt quickly changes into a mud road. For sure it gets very challenging when it rains. Yet we were lucky to have great weather during our trip there. The road gets really bumpy, curvy and hilly out there but it's worth it.
We continued for one hour or more up in the hills and had great jungle views and got a deeper insight into the local country's life.
We certainly wanted to explore more and we did for a while. Yet our a van ticket for getting back to Chiang Mai in the late afternoon eventually stopped us. Unwillingly we had to turn back to Pai.
Our van departed from Pai around 5 pm and we were back in Chiang Mai three hours later.
NOTE: You can book tours to all the above-mentioned places in Pai. However, there is no big need for that, if you are ready to rent a motorcycle and explore the area on your own. Everything is close and easily accessible.
We were not big fans of the expanding Pai nightlife and huge crowds in Pai Canyon. Nevertheless, Pai is a great place to go and you can easily add one more day there (or even more, if you're more in a slow travel mode).
Day 7: A day tour Chiang Rai – Karen Long-neck Tribe – Golden Triangle
Northern Thailand offers lots of things to do. It is sometimes difficult to decide which ones to prefer.
We decided to take a full-day guided tour to the distant Chiang Rai and Golden Triangle area. This tour starts at 7 am and you are back in Chiang Mai around 10 pm. So, it's a really long day but you will see a lot.
Chiang Rai
On the way to Chiang Rai, you will most probably have a short stop at the hot springs (this still didn't appeal to us very much in the hot Thai climate).
Chiang Rai is 150 km from Chiang Mai. It's mostly famous for its White Temple or Wat Rong Khun.
The temple is privately owned and constructed quite recently (in 1997). Yet it is a stunning place worth seeing.
Needless to say, the White Temple area is overcrowded. We spent here for about 45 minutes and it was to say enough.
A peculiar object in the White Temple complex is the golden toilet. This will be probably one of the cleanest and best-maintained toilets you've ever been to.
Long-neck Karen tribe village
After a very good and tasty lunch in Chiang Rai (included in the tour price) we headed to our next stop – famous long-neck Karen tribe village.
We got a very strange feeling in this place. Yes, we met the traditional Karen tribe women there with the steel rings on their necks.
They say that the origin of this tradition comes from the old days when somebody in the tribe was bitten by a wild animal in his neck. The tribe started to wear neck protection rings that gradually turned into a tradition that is somehow applied only to women. Young Karen girls can choose not to wear these rings at the price of being not fully accepted by the tribe though.
It is also actually not true that they cannot live without the rings if they have worn them for a long time. Also, it's not the neck that these rings make longer. Those are the shoulders that are being gradually pushed down making the neck just look longer.
You can take pictures and buy some hand-made crafts here. Yet you clearly see it's all made for tourists.
The Karen tribe arrived in Thailand from Myanmar as refugees. Most people are not educated, and they don't have any other sources of income apart from entertaining the tourists by selling their smiles and some souvenirs. This makes their story very sad.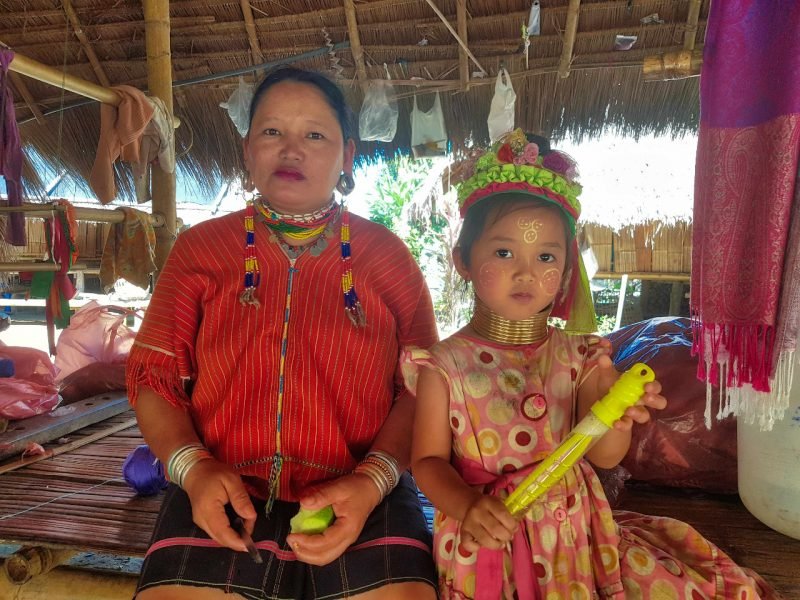 You are in dilemma here. You can buy some souvenirs (not all locally made though) and support them a bit. Or you can ignore the place where people are showcased to tourists as they were circus animals. It is also very hard to say how the Karen people feel about this themselves. You'll see only smiling women and girls but no Karen man there.
We left this place disturbed and confused. This is a sign that something is totally wrong there.
Golden Triangle
The next (and last) destination was the famous Golden Triangle.
On the way there we had a stop in the northernmost point of Northern Thailand on its border with Myanmar. There was nothing much to do there apart from having a short look at Myanmar and experiencing hustle typical on boarders.
Golden Triangle is the place where three countries meet – Thailand, Myanmar, and Laos.
The place is special because it used to be one of the largest opium-producing areas of the world since the 1950s. Most of the world's heroin came from the Golden Triangle until the early 21st century. It's when Afghanistan became the world's largest producer. One kilo opium was traded for one-kilo gold (no money accepted).
The New York Times notes that after years of producing the lion's share of the world's opium, the Golden Triangle is now only a bit player in the business (about 5 percent of the world's total).
Nonetheless, you can literally feel that this dark "business" is not fully closed here.
We had a boat trip to the place of the confluence of the river Ruak and the mighty Mekong.
All deals with opium took (or maybe still takes) place on the island that does not belong to any of three bordering counties here – a neutral place. That said the boat didn't approach the island very closely.
Today Golden Triangle is also a bit like a local Las Vegas – just very rural. In Myanmar and Laos border sides there are some single strange-looking casinos built almost in the middle of nowhere. They are not allowed in Thailand though.
A glimpse of Laos
The short boat ride also took us to Laos (be ready to leave your passport in Thailand while you are there).
For half an hour on Laos side, you can walk around, buy a shitty beer and do some more shopping if you want. You can also enjoy some (scarce) traffic on the right side of the road for a while again before you return to Thailand.
Overall Golden Triangle is an interesting place to be once in a lifetime (not many reasons to return though).
After the long and fully packed day, we returned to Chiang Mai at around 10 pm.
The costs of the day tour were only 1300 THB (lunch, entry tickets and a boat ride to Laos included).
Day 8: Doi Inthanon Experience – The Highlight of Your Northern Thailand Itinerary
We left the best for the last days in our Northern Thailand itinerary.
Doi Inthanon is the highest mountain in Thailand. It's located in the national park named after the mountain.
The road distance between Chiang Mai and Doi Inthanon National Park is around 85 km.
Car rent
We wanted to keep our freedom and do our own trip to Doi Inthanon. Hence for the first time on our trip, we booked the car.
If you think that booking the car is easy in a city like Chiang Mai, think twice.
The globally known car rental services may not be of big help in this part of the world. We tried Rentcar.com and Booking.com. Yet none of them had available cars.
We tried inquiring in the hotels for help. No success again.
The reason for the difficulties in getting a rented car in Chiang Mai is simple. Most of the tourists take organized tours here and a few bravest ones rent much cheaper motorcycles.
Finally, we found a well-rated local car rental company on the web. We made an online reservation and it worked. A reasonably sized budget type Toyota sedan – a model nonexistent in Europe, arrived in our hotel next morning.
We paid 2000 THB for a day including two extra hours. That said we got the car at 8 am and had to return it by 10 am the next morning. Finally, we exceeded this time by two hours and paid 200 TBH extra which is still very reasonable.
It took some effort to get used to driving on the left side of the road in the messy traffic of Chiang Mai. Yet once we got out of the city, it was much easier to get ahead.
Doi Inthanon National Park & Heaven's Trail
Doi Inthanon peak elevation is 2,565 meters. Not that much compared to the highest mountains on our planet.
Yet, it is not the peak itself that makes Doi Inthanon National Park so appealing. It's the pristine nature, pleasant climate (which is much cooler than overall in Thailand), rainforests, waterfalls as well as many nature trails, including the famous Heaven's Trail.
Our first stop was at Sirithan Waterfall. You can enjoy this waterfall only from a viewpoint. You'll get there by walking around 200 meters from the parking area that is close to the main road. This was a nice warm-up for what followed.
Royal Twin Pagodas
The curvy mountain road took us fist to the entrance point in the Doi Inthanon National Park. The entrance fee in the park for foreigners is 300 baht per person. Plus, you will pay 30 Bath for your car or 20 Baht for a motorbike.
Royal Twin Pagodas has a separate entrance fee of 40 Baht per person. As the name itself suggests there are two pagodas – King's and Queen's pagoda. They stand on the beautiful hills and open awesome views on the gorgeous scenery of the Doi Inthanon National Park.
It's a good idea to have lunch here before heading further.
Heaven's Trail
Our main destination today was the famous Heaven's Trail.
We arrived there by noon. Doi Inthanon area and Heaven's Trail or Kew Mae Pan Trail get increasingly popular. The trail is not overcrowded but you can expect many other travelers there. Thus, it is not an off-the-beaten-path experience. Yet, it's totally worth it.
You must hire a guide at the entrance to Heaven's Trail. The trail is well-arranged. It's around a 2-hour (6-kilometer) hike that is not very difficult. The trail is also equipped with informative information boards in English. Thus, one could perfectly do it on his/her own. Yet it is not allowed. The guide is more a formality here, as he/she will most probably not speak English anyway.
The guide costs 200 THB per group. Thus, bigger groups win.
It's a place to go
Heaven's Trail is very scenic. First, it goes through the awesome and humid cloud forest with huge Schima wallichii or Needlewood Trees. The dense canopy of the trees provides shade and a very pleasant cool climate here. The trees are covered with epiphytes: delicate mosses and miniature ferns that feeds on the humidity directly from the air. Such cloud forest habitats are very rare in the world. The soil here retains humidity like a sponge hence protecting lowlands from floods during the rainy season.
Later the trail elevates in the sub-alpine zone. That's a totally different landscape dominated by grasslands with almost no trees but with some blooming rhododendrons and other bushes.
If you are lucky you will see a clear sky above and clouds below you. If the day is clear, you'll see a gorgeous view on Doi Inthanon National Park from above. That noon we didn't get either as we got in a dense cloud on the top of the trail.
This was the reason we decided to repeat this experience early morning the next day. We woke up at 4 am to get to Heaven's Trail again, which finally rewarded us with awesome views on Doi Inthanon National Park. That said this was the main attraction we came here for. We strongly recommend getting to the trail in the early morning.
Angkha Nature Trail & Doi Inthanon Top
Closer to the top of the Doi Inthanon mountain you get one more nature trail to explore.
Angkha Nature Trail is another short but very beautiful cloud forest trail. We recommend exploring it. The Needlewood Trees overgrown with epiphytes are awesome there.
Right next to Angkha Nature Trail there is another short path leading the very top of Doi Inthanon mountain. It is the highest point in Thailand. You won't see a summit here though because it is covered with forest. It is also quite a touristy place. The main road ends at the parking lot from where you will get to the summit.
Mae Pan Waterfall
Our thirst for adventures didn't end up at the top of the mountain though. We decided to go a bit off-the-beaten-path to see the highest non-cascading waterfall in the park – Mae Pan.
It's 100 meters tall and lays a bit off from the main Doi Inthanon attractions in the middle of the jungle. The waterfall is well hidden at the end of a 2 km dirt road from the main Mae Chaem Road. Not surprisingly it is less visited, which is exactly why we went there.
We came to the waterfall in the late afternoon, and apart from us, there were just a couple of local tourists, who were already on their way back. The locals were really surprised that we were there without a guide.
The trail to the waterfall takes some time and effort but it is totally worth it. The waterfall itself is an amazing secluded place immersed in the jungle. We would not recommend swimming there though, as the stream is quite powerful.
Why we almost stayed there
It gets dark quickly in tropical countries. We had a quick look at another waterfall Huai Sai Lueang near the parking lot and rushed back to get to our guesthouse. Yet, the adventure didn't end up so easily. While we were away the only road back had been blocked by heavy trucks.
For a while, we thought we won't get back, as the workers had started to fill the huge holes on the steep and curvy road with lots of fresh gravel. The works didn't seem to end soon. Yet, to our surprise, they really opened the road after some 30 minutes. It was a challenge to get up on a steep road with fresh gravel with a very weak automatic Toyota sedan, which was not meant for such roads at all. Yet, we did it.
We'd strongly recommend going to Mae Pan Waterfall earlier – in the first half of the day.
A guesthouse in the mountains
It took another hour or so to get to our guesthouse on a very curvy road. Yet once there we were immersed in the very authentic Thai countryside.
We had found a distant place in a quiet village. The guesthouse had a great welcoming local host, who spoke perfect English and there were cozy bungalows. Unfortunately, the bungalows didn't have warm water and the windows were without glass (just with curtains and wooden shutters).
After a long and active day, this was probably the only case when we would really appreciate warm water in Thailand. The night in the mountains turned out to be quite chilly, there were lots of mosquitos and overall it very much reminded us of the summer nights in Latvia.
Yet, the breathtaking starry skies compensated for, if not all, then most inconveniences. Another awesome and very packed day on our Northern Thailand itinerary was spent and, sadly, there was only one remaining.
Day 9: Doi Inthanon – Chiang Mai
This was our last day in Northern Thailand.
We woke up very early and visited Heaven's Trail again.
Driving on a dark curvy road was even more challenging. Also, during the first half an hour on Heaven's Trail we walked in a totally dark forest. Nevertheless, meeting the sunrise on this trail is really a must and worth any inconvenience.
On the way back to Chiang Mai we stopped at one of the most popular waterfalls in Doi Inthanon area.
Wachirathan Waterfall
While Mae Pan waterfall is the tallest, the 40 meters tall Wachirathan is a wider and even more impressive waterfall. It's worth stopping by and getting a bit wet from its water drops.
The waterfall is quite easily accessible from the main road, and it's in a developed area with some shops, restaurants and big parking lot almost right at the waterfall.
Chiang Mai Temples
It was time to get back to Chiang Mai and have a look at some of the awesome Buddhist temples.
Our direct flight to our next destination in Southern Thailand was in the late evening (9 pm). Thus, we had a full day to explore Chiang Mai temples and I'd say it was more than enough.
We visited Wat Phra Singh temple that was renovated in 19th century, the old Wat Chedi Luang temple, the rich-looking Wat Suan Dok that shines in gold and some other smaller temples. We even had a chat with a very welcoming Buddhist monk on meditation and the meaning of life.
The impressive Wat Sri Suphan or silver temple we already visited during the Lantern Festival on our first night in Chiang Mai, and it remained our favorite.
We didn't have time to visit the famous Wat Phra That Doi Suthep, which stands on the hill with a view to Chiang Mai. Although Buddhism deeply relates to my world view, we are not so much into temples. Thus, we didn't even aim to visit all the popular ones.
Everything in Chiang Mai's Old Town is within walking distance. So, you can add as many temples as you wish to your own Northern Thailand itinerary.
We had delicious lunch and dinner in Chiang Mai just to remind us that food alone is worth visiting this unique city. A heavenly lunch for two in a restaurant, including awesome Thai food and fresh fruit smoothies' costs around 12 EUR per person!!!
Some Practical Tips for Your Northern Thailand Itinerary
Tips where to eat
Anywhere. You can eat almost anywhere in Chiang Mai. Actually the same applies wherever you go in Northern Thailand. It will be almost guaranteed super delicious.
We ate a lot of street food on a local street food market and we tried many other food paces. Almost every single dish that we tried in Northern Thailand was close to perfect.
The street food is very cheap and safe. That includes:
Traditional Thai food, including noodles, rice, crispy veggies, chicken, pork or even (mostly farmed) seafood dishes;
Barbeque sticks with grilled chicken or pork meat (very convenient snacks);
Lots of fresh fruit shakes, and smoothies: mango, papaya, jack fruit, pineapple, maracuja, coconut and more;
Famous sticky rice and mango desert as well as interesting colorful deserts. They are not too sweet and probably even without artificial food colors;
Endless variations and combinations of everything above and more.
You can get traditional Thai food, which is quite spicy, or the milder versions made for westerners. Northern Thailand and is really doing everything to please every type of food lover. If you get tired of Thai food, it's easy to get tasty western dishes. We didn't practice this often though. You want to eat real Thai food while you are in Thailand.
Tips where to stay
During our Northern Thailand itinerary, we used mostly Booking.com for booking our accommodation for each night.
We focused more on activities and less on hotels, hence choosing mostly the budget options. However, in Thailand, you get great value for money for many things, including accommodation.
Below is the list of our accommodation places in Northern Thailand for information purposes. We do not particularly recommend any of them against others, but we left our reviews for each on Booking.com.
I always recommend reading the Booking.com reviews before you book. We usually choose the places with the scores from 8 to 10.
Here is the list:
Tadkham Village (two nights in Chiang Mai);
Mint Homestay (one night; a rural guesthouse in Doi Inthanon National Park);
Nonnii Fundii (two nights in Chiang Mai);
Chilling Hill Guesthouse (one night in Pai);
Pudsadee House (two nights in Chiang Mai);
Chiang Dao Story Camp (one night in Chiang Dao);
We spent 191 EUR for 8 nights in Northern Thailand, which averages only 24 EUR per double room per night. Plus, we booked a room for the first night in Bangkok for 29 EUR.
Buy the local SIM card
I'd say this is a must. I bought a local SIM card made for tourists for 21 days, but you can get one for 15 days, 8 days, etc.
I suggest buying it immediately after you arrive at Bangkok airport. It is affordable and will make your life easier during your trip. With 5 GB I got enough data for the trip (I don't watch YouTube videos though).
With the local SIM card, you can use Google Maps wherever you go. Just watch for coverage. We didn't have a network in the mountains, but we expected this to be so.
Is Chiang Mai Still the Best?
Finally, I'd like to answer if Chiang Mai is still the "must go" on your Northern Thailand itinerary.
Yes, it is. Chiang Mai is the most convenient hub, from where to explore Northern Thailand. At the same time, we also recommend going off-the-beaten-path and explore less touristy areas in Chiang Dao, Pai, Chiang Rai and probably even the Golden Triangle…
Doi Inthanon National Park is a must on your Northern Thailand itinerary. You can get there from Chiang Mai on a guided tour or by renting your own car. We recommend staying for more days in Chiang Dao, Pai and Doi Inthanon areas whatever activity you choose.