When it comes to the quiet beach holidays and beach hiking in Europe Latvia is probably one of the best destinations.
Most of our ca. 500 km (300 miles) long seacoast is a beautiful sandy beach. There are some relative hotspots near Riga Bay popular among locals and guests. Such are Jūrmala City and the surroundings of our capital Riga.
Also, Liepāja and Ventspils cities in the very west of Latvia are quite popular and not without a reason. Ventspils is a port city with a very good infrastructure including the beach. While Liepāja is worth visiting alone. It's a charming city with the widest white sand beach in Latvia. There is so much space that even the most reserved introverts will feel undisturbed most of the days.
And that's it. Everything else In Latvia we can easily call off-the-beaten-path or secluded. There are even places where you can walk for kilometers and not meet a single person on your way.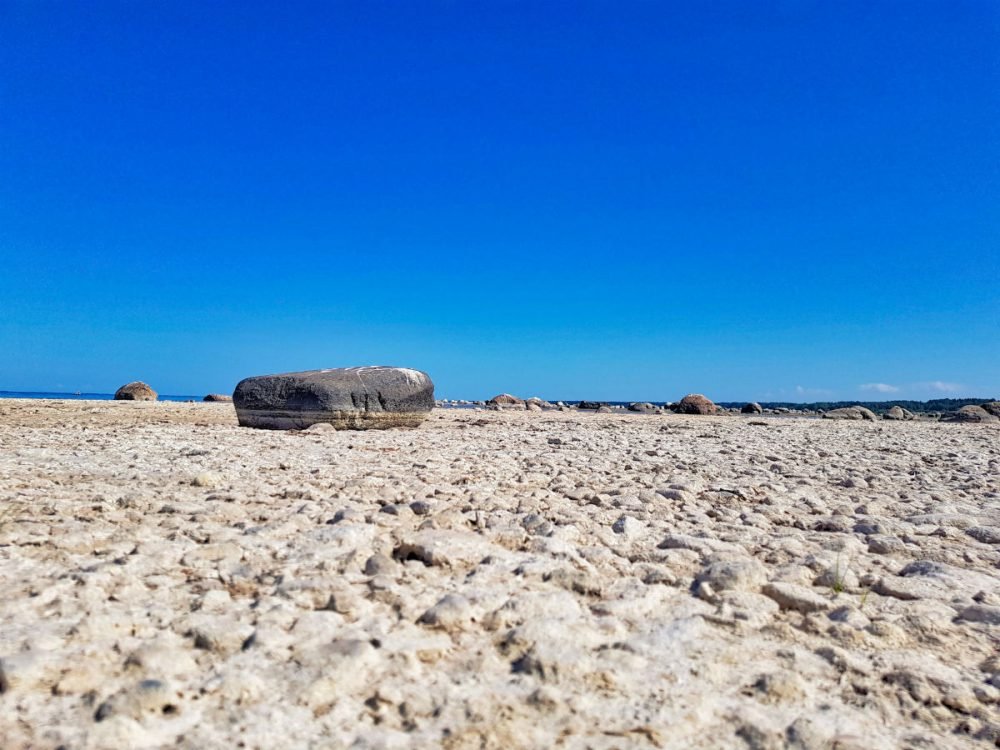 Hence Latvian seacoast is perfect for quiet beach holidays and such a great activity as beach hiking. There are many great hiking trails along the Baltic Sea coast. You can even choose hiking long-distance hiking trail along the Latvian and Estonian coastline. It is called the Baltic Sea Path or "Jūrtaka" in Latvian. The Baltic Sea Path in its turn is a part of the bigger so-called European Coastal Path (E9).
Here is why I prefer quiet beach holidays in Latvia and why Kaltene beach is a great destination to go.
Looking For Quite Beach Holidays Place At Riga Bay
Kaltene Beach is only 110 km from Riga. Yet it is almost 2 hours' drive. The road goes through the coastal villages and beautiful coastal pine forest. In some places the pines are 200 – 300 years old, and the forest here is impressive.
We went there on a sunny and hot Saturday. In the weather like this, you can expect many people going to the seaside. So, it was. There were many cars going to the most popular beach city of Jūrmala, including the retro cars' parade on our way. This was honestly a very nice experience. Yet the fun was not for a long, as the traffic did not reduce much on the road near the fishermen villages that are close to Riga.
What's "Crowded" For A Latvian Might Be Perfect For You
People in Latvia are friendly but as all Nordic people, a bit reserved. Latvians appreciate secluded holidays in nature. So, Latvians try to move away from what they consider crowds. As it happens in such cases such kind of movement causes some new "crowds" in other places. Such fishermen villages as Lapmežciems, Ragaciems and Klapkalnciems used to be great places for quiet beach holidays. They still are, but only on working days and/or when the weather is not that great. Otherwise, you won't be alone there anymore. Should you want to have some more privacy you will have to move forward. Look towards Engure, Bērziems, Kaltene, Roja or even Kolka villages!
Yet, don't get me wrong! Compared to the popular tourist places all around the Word all these "crowded" places in Latvia can be probably called only slightly busy. End event this is true only on warm weekends. Latvia is scarcely inhabited country. Thus, Latvian people naturally consider a place crowded where a person from let's say Monaco would see a nice a quite chill out atmosphere.
Anyway, right after we passed Klapkalnciems village there are almost no cars and no people. Hence, this is a relative border where you get the off-the-beaten-path if you go to the western coast of the Gulf of Riga.
Kaltene Beach: A Great Place For Quite Beach Holidays & Beach hiking
Kaltene Beach is very different compared to most of the other beaches in Latvia. It's a stony beach. Latvian seacoast is mostly a combination of sandy beaches and forested dunes overgrown with pine forest. Kaltene Beach is covered with glacial stones that stretches up to Roja Town. Hence unlike in most other places of Latvian seacoast, Kaltene Beach is not a place to lay on the beach. Yet, it is gorgeous.
Doing beach hiking when the water is low is a memorable experience here. The cost is a bit swampy and wet. This is not very typical for Latvian seacoast.
Thus, it is better to go hiking on a trail that leads through reed-beds. Taking this trail is also a special experience as the reeds reach some three meters in height.
Big stones are scattered on the beach and in the water. The beach is covered with smaller and bigger stones. Hence this terrain can be a bit more challenging for beach hiking lovers. Yet, it all makes beach hiking experience so exciting here.
The harsh stony beach is occasionally interrupted by sandy beach stretches. Here you can lay down, have a rest and enjoy a swim. The biggest sandy beach here is in Kaltene village itself. You'll meet some people here. Yet Kaltene public beach in no way can be called busy.
After a great swim in the cool water, we continued our beach hike towards Roja village making altogether some 15 km both ways. This took some four hours with many stops, pictures, and a rest on Kaltene public beach. Hence this place is no doubt perfect for quiet beach holidays.
Combine Beach Hiking With Birdwatching & SUP
Kaltene beach is also a popular place for birdwatchers. There is a so-called "Birds' path" here with a birdwatching tower on the beach.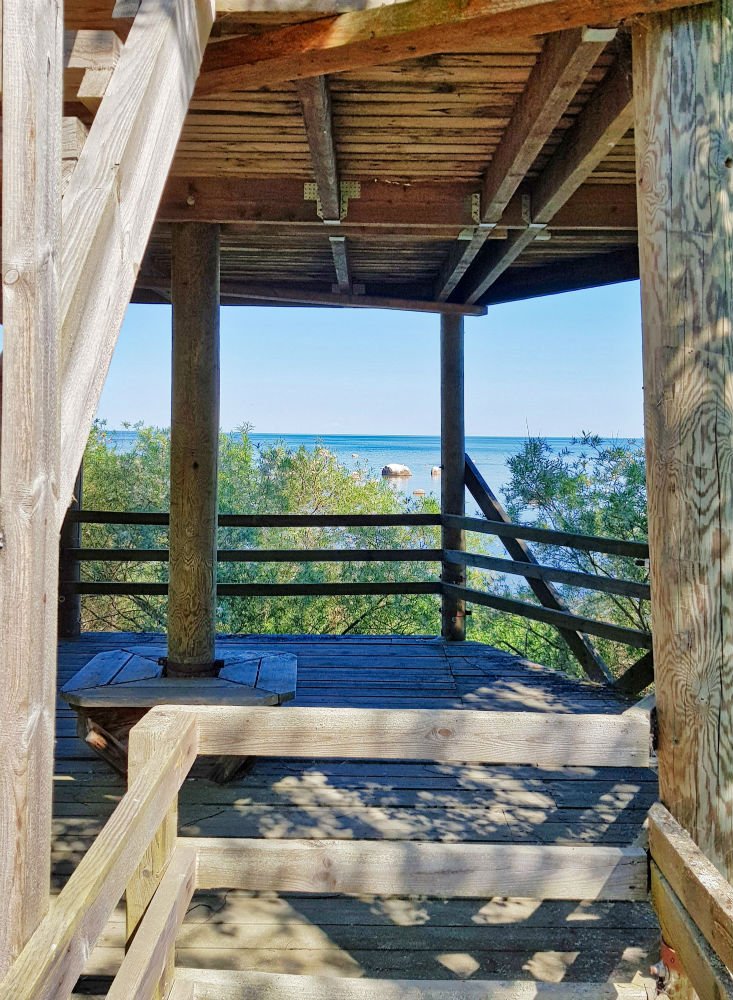 We saw many birds on our way, including hordes of swans, many duck species, and gulls. The stones in the water are beloved resting places for birds.
If you're more adventurous you can rent a Stand Up Paddle Board (SUP) in Kaltene public beach (the phone number is on the wardrobes wall). On a calm non-windy day it's a great experience. Just be careful of the stones in the water, as falling on them might be a harmful experience.
Hence the place is interesting not only for keen birdwatchers. It is special for everyone who values quite beach holidays, beach hiking and new off-the-beaten-path places.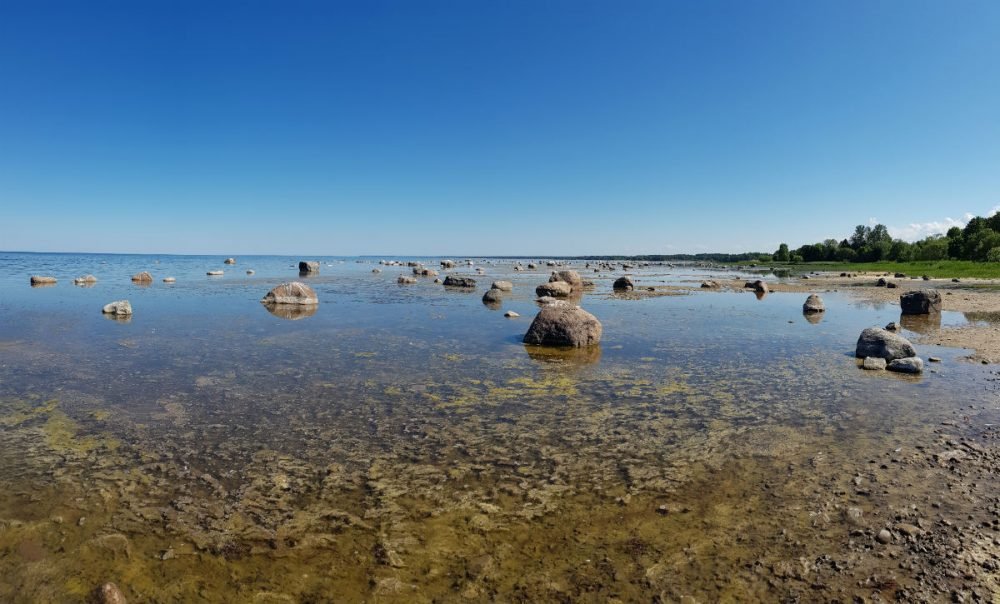 Where to Stay?
There are few guest houses available in the surroundings. And the ones that are there you should better book in advance. Yet there is always a possibility to camp.
We chose the local guesthouse "Raudiņi". It is a charming place to stay. Yet instead of the promised "lake" view, one gets a view of a small pond.  The pond was rich with biodiversity, including plenty of frogs, frog-lets, and even a non-poisonous Grass Snake. The snake obviously loved the pond because of the froglets. Although definitely safe we decided to skip swimming in the pond. After all, the sea was just some 200 meters away…
The host was really welcoming and served us amazing rhubarb dumplings. This sweet-sour dish is what one must try during a hot summer day in Latvia. We appreciated it after our beach hiking a lot.
When I travel around I always try to stay in rural guesthouses. These are the most authentic places. You cannot expect 5-star services here, but you are not expecting it anyway.
The mosquitos are an issue at the beginning of summer, especially in the evenings. Yet mosquito repellent and some wine always help.
Kaltenes Kalvas – A Special Place To Visit
Last but not the least the locals suggested us to visit a very special place near Kaltene village. It is in pristine forest and called Kaltenes Kalvas.
We decided to try it out the next morning. You must drive a couple kilometers on a sandy gravel road to get to the place. What you can see here are untypical piles of big stones in the forest.
These are glacial remnants of the ancient Baltic Ice Lake. Yet, the locals have their own (more magic) tales about the origin of these stones. This is the only place in Latvia where you can see something like that. The biggest stone pile used to be as high as the top of the highest trees in the forest. Yet in Soviet times (1960ties)  it was destroyed and used for road construction.
The path leads through magic and pristine forest. The shadow of the tall trees gives excellent shelter from direct sunlight on a hot day.
There are also boardwalks here and there on your way to help you cross the wet places. The place gives some magic feeling and it is worth visiting in any season.
The only thing that adds some unpleasant feelings to this overall great experience is mosquitoes. Yet it was because we did not take our mosquito repellent with us on this short walk. Don't repeat this mistake! One should also avoid going into the forest in shorts and t-shirt, even the walk is short.
After an hour or so we returned to the beautiful Kaltene beach to soak up some sun. It was awesome to enjoy the last hours of our quiet beach holidays before going back to Riga.
Summing-up
To sum up this experience I must say that Kaltene beach is a great off-the-beaten-path place for quiet beach holidays. It's a good spot to unwind from the city rush for a couple of days or so. You can easily combine beach hiking, bird watching and some sightseeing with relaxing sun basking here.
Would you come to Kaltene Beach and to other places in the Baltic coastline? Write your comments below or send me a private message for more details to [email protected] If you want me to arrange your hiking or any other adventure trip in Latvia, please contact me or visit our page at www.idaadventures.com.
Follow also my next posts about great off-the-beaten-path places in the Latvian coastline as I'll move ahead along our gorgeous seacoast.